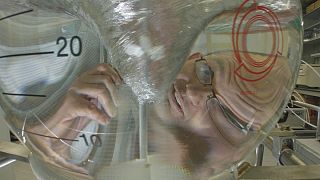 With water shortages a growing problem around the world recycling waste water has become increasingly important. European researchers have come up with a cheap and efficient tool to control the safety standards of waste water in a development that should boost the recycling effort.
One of the main advantages is the versatility of this box. It can be used at water treatment factories, with surface water or sea water
The research is being carried out at a greenhouse in south-east Italy where different methods of the irrigation of tomatoes are being compared. The scientists involved in the European-back project are trying to produce a safe harvest using recycled water from industrial facilities, as Alfieri Pollice, a researcher with the IRSA-CNR institute explained: "A factory nearby processes tomatoes, preparing them for storage and distribution to shops. One of the outcomes of these production processes is a lot of dirty water. Usually the waste water is discarded; what we're trying to do is to find methods to re-use that water for agricultural purposes," he said.
Water not waste
Fresh water is precious in this dry climate
, so waste treatment helps overcome the shortages. But testing the water quality is complicated. In most cases, large sample bottles have to be carefully transported to a lab for chemical analysis to see if the water complies with safety standards.
"What we really want to know about the water is that it's suitable for re-use, for watering the plants – that it doesn't exceed the limits of organic compounds, nutrients, because there are specific laws that must be applied to what you can irrigate with," said Helle Skejø, a chemical technician with the InnoWater lab.
Scientists working at the European Commission's Joint Research Centre have come up with a kit that simplifies the inspection. Instead of sending recycled water to the lab, they pump it through a filter using a specially designed portable box. The chemicals are trapped and preserved for lab analysis.
The portability of the kit is a major benefit, said Giulio Mariani, another chemical technician, at InnoWater: "One of the main advantages is the versatility of this box: it can be used at water treatment factories, with surface water or sea water."
Testing made easy
The filters are much easier to deliver to the lab than heavy, fragile glass bottles. Sometimes dozens of litres of sample water were need to check for various chemicals.
"The advantages of using this filter compared to traditional analysis techniques are that the trapping of many organic compounds on a single filter simplifies the analysis, reducing the costs and time and improving sample preservation, " said Mariani.
The water sampling device is simple and inexpensive, and the researchers are going to make the design freely available to other specialists in this field. They say their device has already attracted a lot of professional interest.
"Our colleagues are generally amazed with the price-performance ratio, said Bernd Gawlik, a chemical engineer involved in the project. "There are many commercial devices offering similar functions, but they're very expensive. So when they see a do-it-yourself instrument that could cost up to 100 times less, it's very surprising! Especially when they see that they're just as accurate."