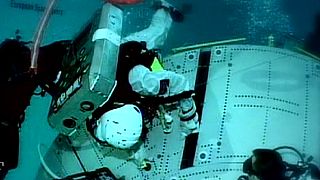 Hervé Stevenin oversees one of the toughest processes that any astronaut can go through – learning to spacewalk. The Frenchman, himself a former astronaut candidate, is one of the leading figures at the European Astronaut Centre in Cologne, Germany, and he talked us through the basics of his spacewalk training classes.
"One of the challenges during a spacewalk is that you have to be double tethered to the structure and to the station for safety reasons," he says. "If you are lost in space, like in the Gravity movie, you can pull it and then you are back to the station."
Inside the EAC's Neutral Buoyancy Facility, Hervé uses a diving mask with limited visibility to simulate the view an astroanaut would have in their spacesuit when outside the ISS.
ESA is the only space agency to run preparatory sessions for its astronauts before they head to Houston or Moscow to begin passing spacewalk examinations, and Hervé's initiative has proved very successful in making sure that European astronauts are ready for the rigorous process that astronauts go through before they're allowed to open the air lock and venture out into the darkness of space around the ISS.