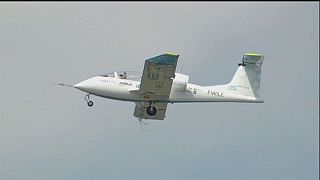 There are over 2,000 exhibitors displaying the latest technologies in the aeronautic section of the Paris Air Show.
Among them are the drones which make aerial views available to almost anybody. Just a few years ago we depended on helicopters.
At the French company Parrot's stand flying drones performed acrobatics to loud electronic music. The company, which prides itself on being, "the first to launch consumer drones worldwide," says the reason for the attraction is simple.
"The drone allows you to make fantastic images and very easily, you can fly over the mountain you can fly over the building and you can make very incredible images with a drone. So this is the reason of the rise of the drones," explained Henri Seydoux, Parrot drone manufacturer CEO.
Airbus is displaying its E-Fan electric plane which the company claims has zero carbon dioxide emissions. The engines operate on electric motors that reportedly are able to fly at around 200 kilometres per hour for about 90 minutes.
The cost of the complete recharge of the plane's batteries will be in the region of two euros. Two euros per hour of flight in comparison with 30-40 euros of fuel for a classical airplane in the same category.
"Starting from now, from 2015 and in the following years we will be capable of making purely electric planes fly without CO2 exhaust emissions and with an extremely reduced noise impact and that is a very important environmental challenge," said Didier Esteyne an E-Fan test pilot.
Airbus is currently developing a two and four seater version of the plane with the aim of releasing the two-seater pilot trainer in 2017 as the first electric plane to meet international certification standards.