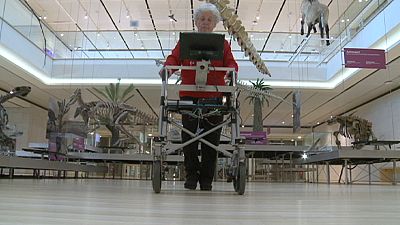 How can we help elderly people find their way around places which are new and completely unknown to them? At the Science Museum in Trento, northern Italy, Vittoria Basso, 91 years old, is involved in an unusual scientific experience. She is testing a robotic walker.
"It is like a GPS, similar to the GPS that my son has in his car. This guides me easily; it helps me not to be lost. It let's me know the right path. And I can walk without fear," she explained.
The walker obtains information about the environment around it through the wireless connections and that guides the user's decision-making.
The device is stuffed with sensors, cameras, obstacle recognition systems and software components aimed at extending elderly people's autonomous life beyond the home.
"Inside algorithms receive the information from all the sensors embedded in the walker. The algorithms then analyse all this data and suggest to Vittoria and other users a path that minimizes the chances of stumbling on problems. The system for instance will try to avoid obstacles that may be present in the environment, or people who may be walking and did not notice the presence of the walker and its user," explained Alessio Colombo Computer scientist, University of Trento.
"Or a dog," added Vittoria Basso.
The technology was partially developed and assembled at the University of Trento. Engineers worked to equip the walker with both sensing and cognitive technologies, and friendly human-machine interfaces. Solutions were then tested by volunteers.
"With this machine you can be safer on the pavement or when you cross the street, etc… I think it is good when things like that are developed and when older people can buy or rent it for a certain price. That is really great," pointed out Herbert Schuster, one of the volunteers.
Scientists aim at a robotic walker worth less than 2,000 euros per unit in the market.
Given the state-of-the-art technology embedded in the device, that is far from easy, researchers say. So they used some tricks.
"We tried to design it to be financially competitive. The embedded intelligent systems have powerful low-cost calculus platforms. The walker has also the possibility to connect to wireless signals sent by other sensors, cameras in the environment around. And this contributes to expand the capacity of our own system at a low cost.
'We don't need to think of this robotic walker as a substitute for caregivers. It is just something complementary. We can for instance think that these walkers could work in a retirement home. That same carer could follow and take care of dozens of users of this technology," explained Luigi Palopoli, Computer engineer, University of Trento/DALI project coordinator.
Researchers say the technology is ready to be on the market in two or three years.