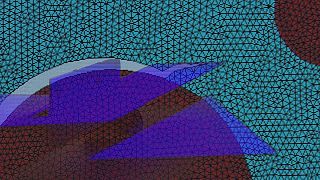 Intelligent, extremely tough and ultralight; these are the anticipated characteristics of the materials that will be used to build planes of the future.
At Lublin University of Technology in eastern Poland, researchers are working on making those materials a reality of today.
A research project in the provincial university has recently acquired sophisticated equipment, including 3-D scanners, thermo-vision cameras and temperature chambers.
Marcin Knec, a mechanical engineer working on the project believes this technology places Lublin at the very heart of aerospace research: "Data from these tests can be used by industrial partners to adapt their production. They can use our results to reduce the time needed to produce some aerospace elements, for instance.
"That would mean less time in assembling new planes, making them less expensive. And, eventually, that could mean cheaper air fares."
So what are these tools and how are they enhancing the accuracy of mechanical tests?"
Scientists from this European research project are also using innovative computer simulations to better understand the inner dynamics, fluid flows, and vibration and impact patterns of newly-developed aerospace composite materials, according to Jerzy Podgórski, a civil engineer at Lublin University of Technology: "Thanks to these computer simulations, we can build very complex models. And we can foresee how these materials will react under complex circumstances.
"It is an inexpensive, fast technique. Computer modelling is actually the future of aerospace engineering; it will allow us to develop new, more complex, safer and better materials".
Both mechanical and numerical experiments are already being used as a base to develop and build new, light, tough composites for aircrafts, with materials like aluminum, carbon and glass fibre.
"These composites are mostly used to reinforce the structure of planes. They mainly substitute metal elements on board. They are lighter, and of higher quality," says Barbara Surowska, a materials engineer contributing to the research.
The state-of-the-art lab gives the university the knowhow to become a leading research centre in innovative technologies in eastern Europe, Polish aerospace scientists say. And, they maintain, results are already clear, maintains Jolanta Sadowska, a physicist, at Lublin University: "Our research was published in two books, in 16 book chapters, and in 70 papers that were printed in 24 international journals".
Tomasz Sadowski, a civil & mechanical engineer and CEMCAST project coordinator says it's not just about having the hi-tech kit: "Buying equipment is the first step. And the second step is the preparation of our staff. We arranged a lot of exchange of our staff. We sent our Phd students, our doctors and our professors to different places. We now feel enough potential to start very advanced collaboration with industry".
And that, the researchers claim, includes ongoing active collaboration with both big companies like Airbus and small and medium local enterprises.