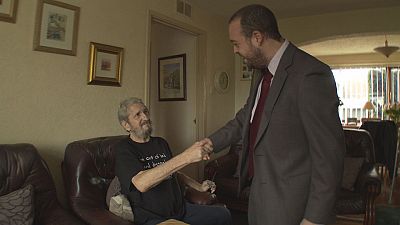 Three years ago the lives of Andrew Ryan and his family changed forever when he was diagnosed with cirrhosis of the liver. His health deteriorated so quickly that his only hope was a liver transplant.
The former offshore oil worker eventually had one and now undergoes almost weekly check-ups at his local hospital in Newcastle, England.
He says he is already feeling the benefits: "Every morning when I get up, it feels better on my legs. I definitely feel better than I did two weeks ago".
To minimize the all too frequent visits to the hospital, researchers on a European project called d-Liver are developing a platform to allow chronic liver disease sufferers to know when their livers are faltering and when they need special hospital care, not just regular check-ups.
"The main advantages that we see from the patients' point of view is that their clinical care may be improved so that they have less episodes of deterioration throughout this closely monitoring. Their quality of life should be improved quite significantly if we can do that, because they don't have to end up in hospitals so much," says James Orr, a clinical research fellow in hepatology, at Newcastle University
The technology is being tested and developed at labs such as the one visited by the Futuris team at Neuchâtel in Switzerland.
The research project is developing a system aimed at helping patients to easily monitor the chemistry status of their damaged livers.
"This machine analyses a certain number of blood parameters, such as the blood clotting ratio or the quantity of potassium, sodium, creatinine, albumin, bilirubin… A too high or a too low level of all these elements in the blood may be a symptom of a malfunctioning liver," says Stephan Dasen an electronic engineer involved in the research.
The platform will also allow patients to autonomously monitor physiological parameters, including heart rate, skin temperature or blood pressure.
The continuous monitoring of blood pressure is particularly challenging and the science behind it requires complex experiments on volunteers, as Triner Seeberg, a physicist, with SINTEF explains: "To be able to measure blood pressure in a continuous way, you can't use ordinary cuffs (arm pads used for taking blood pressure readings). You cannot walk around with that.
"And then you need several high resolution signals, and combine them, to get the blood pressure changes"
With further development and testing, researchers hope their monitoring devices could soon become a market reality.
"The wearable devices are very close to be available for use for routine continuous monitoring of physiological parameters," says Callum McNeil, a biochemist at Newcastle University and d-LIVER project coordinator.
"The biochemistry measurements of blood biochemistry, that would possibly be now three to five years from market. And the test for cognitive impairment can be in the market within a year; it will allow patients to measure their own degree of cognitive impairment," he says.
In the meantime Andrew Ryan, is determined to make the most of developments in the treatment of his condition: "I just want to share time with my wife; with my family. I've got grandchildren now. I don't want to fly to the moon, you know? I just try to live my life". .