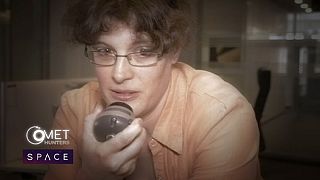 All year we are following the Rosetta mission to catch a comet, and in this update Armelle Hubault explains how the team are beginning to see their efforts bear fruit.
We spoke to her 155 days before the ESA spacecraft was due to drop a probe down onto the surface of comet 67-P.
The team were in the process of slowing down Rosetta's relative speed in order to get as close as possible to the target.
"For a few weeks now we've been able to see the comet, and it's become active, that's to say there's now a cloud of dust particles around the comet," said Rosetta Operations Engineer Hubault.
"We regularly take photos of the comet before and after our manoeuvres, and with those photos we manage to work out the impact the manoeuvre has had compared to our orbit towards the comet."
The team are dealing with a largely unknown quantity, as this comet has been studied from a distance but never before from such proximity.
Although they can pinpoint Rosetta's position in space very well, they are less able to track the comet, and have to rely on cameras on board the spacecraft in order to calculate how they are approaching the comet.
If all goes well in the coming weeks then Rosetta should begin orbiting around the comet at the start of August, the first time that a spacecraft has ever managed such a feat.
"More and more we really have the impression of achieving something that's never been done before," smiles Armelle. "Personally I realise more and more to what extent the observation of this comet is something new and extraordinary."
So what is her message to Rosetta? "Hi Rosetta, all the instruments are on, we can see the comet, carry on like that, you're doing a great job, we're proud of you!"