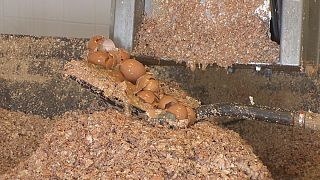 Every day dozens of tons of eggshells are wasted in Europe. They can be recycled into plastics, cosmetics or even food supplements, but there is a problem. A problem they tackle every day at one small company in Hungary. Every year around 15 million eggs there are transformed into ingredients for pasta, bakery and food service industries.
This produces a huge quantity of eggshells every day. And eggshells are difficult to dispose of.
Tas Orbán, the Managing Director, of Ecomotive Kft, said: "Industrial eggshells are considered hazardous waste because proteins in the egg membranes start to decompose easily and may become toxic. So we can only use special companies for removing this waste and transporting it to a treatment centre, which is costly for us."
But membranes contain collagen and amino-acids that egg processing factories could sell to cosmetic or food industries. So scientists at a European research project set out to find a way to separate membranes from eggshells in an easy and affordable way.
They developed a prototype that mechanically separates membranes from eggshells. Separated membrane is then dried at ambient temperature to preserve its qualities, and the final step is to sterilize the dried membrane – also in a non-invasive way.
Enrico Imperi, an industrial chemist at Labor Srl, explained: "We use ultraviolet light, which penetrates the bacteria, and modifies its DNA. This therefore makes the bacteria inactive, and unable to reproduce. This way, egg membranes are sterilized without chemical agents or high temperatures. They are sterilized in a non-invasive way so that their properties are preserved".
The prototype is already a reality, and researchers say they have shown they can help egg processing companies transform waste into valuable products. So scientists are now looking ahead.
Melinda Koza´k, a bioengineer at Ateknea Solutions in Hungary and the LLC./Shellbrane project coordinator, said: "The next step is to automate the system. Our idea is to tailor-make the processing capacity, depending on the size of the egg processing plant. It can go from 100 kilos of shells per hour to 1000 kilos per hour"
Tas Orbán said: "If we can make that separation in an industrial way, then egg processing companies like us could make a profit from a by-product, from something which was previously a cost."
Researchers hope that a marketable product could be ready in less than 3 or 4 years, and say it could improve the competitiveness of the whole chicken farming sector in Europe.
For more information see