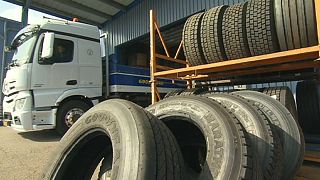 Is it possible to drive on greener, more resistant truck tyres that consume less fuel? In this edition of Futuris we go on a voyage of discovery into the science of the tyres of the future.
Researchers at an EU research project are working here to develop a new generation of truck tyres designed to reduce fuel consumption, be longer-lasting and increase safety.
"We're working with new materials and new design tread patterns," says project coordinator Benoît Duez. "Our approach to a better understanding of the physical behaviour of tyres is also innovative, so we can guarantee a better rolling resistance. We're studying, for instance, the strain on materials inside the tyres".
At laboratories in Luxembourg, researchers are using new recipes to cook up innovative tyres.
The usual ingredients of natural rubber and sulphur, are enriched with new mixtures of 'carbon blacks', or newly developed carbon nano-tubes, as Tom Linster, a biochemical engineer, at the Goodyear Innovation Center explains: "To ensure a good rolling resistance, we need to use products that don't waste much energy.
"We also need to guarantee both rubber and other raw materials provide a better resistance to abrasion. So rubber is enriched with carbon blacks in the right proportions".
The prototypes are then tested to assess tyre deflection, rolling resistance, fracture-fatigue and wear behaviour.
Stephan Westermann, a materials physicist working on the project says while new materials are being assessed, researchers are also working to upgrade their testing methods: "Our research here is twofold. On the one hand we want to validate new material concepts that can show real potential applications.
"And we are also looking to determine if we need to – and can – develop new procedures to test the tyres made with those new materials".
Those tests are complemented with forensic-like, non-intrusive analysis. Researchers want to understand, down to a microscopic level how the different ingredients work together and what are the best ways to further enhance the tyre's efficiency.
"During our microscopic exploration of samples, we can identify where a first detachment has taken place or where an interface has opened up," says Petra Wahlbring, another Goodyear physicist.
"These are the spots on which we base further improvements, even if these detachments may have happened during extreme tests, where the forces would be a lot higher than you would expect in normal road use."
Ultimately, scientists hope their research will benefit, truck manufacturers, fleet managers, drivers and the environment.
"5% of savings in fuel consumption for each truck in fleets that may have hundreds of lorries means a huge fuel bill reduction for road transport on European roads," says project coordinator Benoît Duez.
"It also means that we can improve the carbon footprint of road transportation".
The researchers believe the new tyre designs, could be rolling on European roads in about 3 years' time.