EU ban on Russian oil imports comes into force, as West steps up measures against Moscow
Comments
By Sandor Zsiros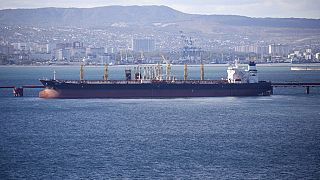 -
Copyright

AP/Copyright 2022 The AP. All rights reserved.
The European Union has introduced a ban on imports of refined oil products from Russia on Sunday, stepping up its economic fight against the Kremlin. 
According to Lauri Myllyvirta, a lead analyst at the Centre for Research on Energy and Clean Air, the embargo, which includes EU purchases of diesel and jet fuel, will be financially damaging for Moscow.
"The EU until February 5th, imported about €70 million per day worth of oil products, especially diesel from Russia," Myllyvirta told Euronews.
 "And the EU has been by far the largest buyer of oil products from Russia. So, this will be highly impactful."
In the short term, experts are not worried about diesel shortages, as companies piled up stocks before the long-awaited Sunday deadline came into force. However, the long-term perspective remains to be seen.
The EU and G7 countries — Canada, France, Germany, Italy, Japan, the UK and US — have also expanded the existing price cap on Russian crude oil to include all refined products.
This means EU-based insurance, banking and shipping companies cannot provide services to Russian tankers that sell premium products, such as kerosene and gasoline, at a price above $100 per barrel.
A separate price cap for so-called "discount" products, like fuel oil and naphtha, was set at a maximum of $45 per barrel.
"The price caps on oil products are set at a high level that still enables Russia to profit from this trade," Myllyvirta said.
"So European-owned European-insured tankers continue to carry Russian crude oil, Russian oil products to third countries, and the price caps for this trade need to be substantially revised down."
Experts have warned that Russia can circumvent the latest sanctions if it finds enough insurance and shipping companies outside of the Western world. This would enable it to continue shipping oil products at a price higher than the cap.
"This is going to be a game of cat and mouse that goes on that will continue for probably as long as Russia continues its war of aggression against Ukraine," Myllyvirta explained.
"So, for example, Russia is now exporting crude oil to countries, such as Turkey, the United Arab Emirates, India, and then they make refined oil products out of that crude oil. Some of them are imported back into the EU, into the US, into Australia and so on. And that is another loophole that can be closed and addressed."
The EU is also working on a new tenth round of sanctions against Moscow, which is expected to be introduced by the first anniversary of Russia's invasion of Ukraine on Feb. 24.