State of the Union: What were the top stories in the EU this week?
Comments
By Stefan Grobe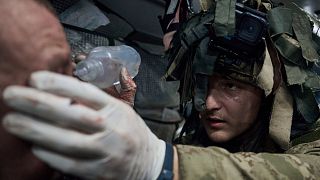 -
Copyright

AP Photo/LIBKOS
In Ukraine, the frontlines have been static for quite some time.
Experts expected that to happen as harsh winter conditions would make major troop movements difficult.
But it is also expected that a new Russian offensive is being prepared - and here's where the debate on cutting-edge western tanks for Ukraine comes in.
After sustained pressure from EU partners and the domestic opposition, Germany decided to deliver its own Leopard 2 tanks to Ukraine and will allow other countries to do the same.
Boris Pistorius, the new German defence minister, defended his government's position.
"I don't have any hints that it could be too late. Because I think we will deliver our Leopards the latest maybe at the end of March and everything I know is that this is early enough," he said.
The ultimate decision was solely made by German Chancellor Olaf Scholz. The reason why it took him so long was the subject of a lot of speculation.
Some suggested that Scholz needed time to bring a skeptical public on board and that Germany's pacifist electorate would never pardon him an overly eager attitude to arm Ukraine.
In a TV interview, Scholz sharply rejected any domestic considerations.
"Those who supply tanks must never do so for domestic political motives, but because it is right in terms of support, in this case for Ukraine, which is under attack from Russia and Russia who wants to conquer all or part of the country, but also, in terms of the decisions we make for our own security," Scholz said.
"And this can only be achieved if one has strong nerves and knows for sure that one must advance this together with others."
Scholz acted in close cooperation with the United States. Washington believes that arming Ukraine with highly sophisticated weapons could be a major turning point in the war, as US President Joe Biden explained.
"Today, I'm announcing that the United States will be sending 31 Abrams tanks to Ukraine, the equivalent of one Ukrainian battalion. Secretary Austin has recommended this step because it will enhance Ukraine's capacity to defend its territory and achieve its strategic objectives."
But former Ukrainian president Petro Poroshenko told Euronews the tanks are coming too late.
"If you're talking about the game changer: not anymore. If supply was happening half a year ago when Russia was weaker than now, definitely together with the armoured personnel carrier together with air defense, that would have been a game changer."