Swedish mining town sinking into the ground to be relocated building by building
Comments
By Isabel da Silva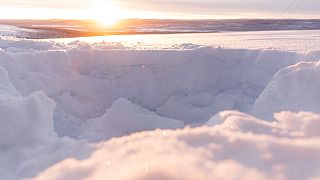 -
Copyright

Malin Moberg/Copyright 2019 The AP. All rights reserved.
The Swedish town of Kiruna will be moved building by building to a new location in the country due to years of mining that have caused it to sink into the ground.
Valuable minerals have also been found in and around it, including Europe's largest deposit of rare earth minerals, used to make green technologies.
Kiruna is located 200km north of the Arctic circle and was founded to house the workers of an iron ore mine installed 125 years ago.
Most of its inhabitants have welcomed the move, after taking part in a consultation about their desires.
Clara Nyström, an antiquarian at the Kiruna Municipality told Euronews that the relocation is a significant improvement.
"They wanted places to meet, like a big town square, we did not have that [before]. Also a more defined shopping area, like our new shopping street, and also - maybe the most important - was the access to nature. We really enjoy outdoor life," Nyström said.
The relocation of 450,000 square metres of houses, schools, public, commercial and leisure premises should be completed by 2035.
One of the most sensitive buildings is the iconic church, from 1912, which Lena Tjarnberg, a vicar at Kiruna Lutheran Church says is crucial for the town.
"It is very important to move the church for us and for the city. People are very happy about that... that the church is going to the new city, and is not going to be torn down. I think people are looking forward to the move, for the day when it is going to happen," she told Euronews.
Kiruna has around 23,000 inhabitants that populate a territory the size of Slovenia.
It is located in a protected landscape that attracts many tourists as it includes birch forests, alpine tundra, seven rivers and 6,000 lakes.
But the expansion of the mine worries the indigenous people of Lapland, known as the Sámi, who mostly live off reindeer herding.
The government says it will take into account their needs, but Stefan Mikaelsson, the Deputy Chair from the Board of the Sámi Parliament, told Euronews that the surrounding nature must be taken into account.
"Biological diversity in the Arctic is very crucial also for the people of the continent. We cannot just depend on the Amazon and pretend that by protecting it we are then allowed to keep the consumption habits, the extraction of natural resources and gaining profits in the Arctic by endless amount of years," he said.
The mining company involved, LKAB, announced it will soon use just clean energy sources, aiming to be at the centre of the so-called green industrial revolution. But questions remain, given that the discovery of rare earth elements in Kiruna means an expansion of industries in the Arctic.