Hungary's mail-in poll on Russia sanctions dismissed by Brussels
Comments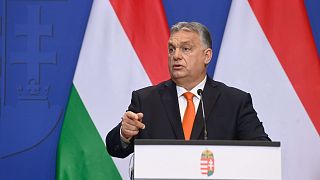 -
Copyright

Szilard Koszticsak/MTI via AP
The European Commission has dismissed the results of a mail-in poll in Hungary that is being used by Victor Orbán's goverment to claim that most Hungarians are against EU sanctions on Russia -- despite Hungary voting for the sanctions to be put in place. 
According to the results of the month-long postal consultation, which were released over the weekend, 97% of those who took part are against the sanctions.
"All the sanctions decisions in the EU are made by the Member States in unanimity. They decide about what sanctions regime we have when we have it, to what extent." European Commission spokesperson Peter Stano told Euronews.
Stano, meanwhile, said that the Commission had noted the "very low participation of the consulted citizens". 
Less than 1.4 million of Hungary's 8.2 million registered voters took part.
The EU's 27 member states have so far imposed nine packages of sanctions against Russia for its ongoing invasion of Ukraine. They have targeted Moscow's ability to export fossil fuels, wood, and steel products, and to import luxury and high-tech products. Access to global financial systems for Russian banks has also been restricted.
Hundreds of Russian individuals and entities including Russian President Vladimir Putin, its foreign policy tsar Sergey Lavrov, other top government and military officials, propagandists and oligarchs have meanwhile been slapped with travel bans and had their assets frozen.
Hungary's populist right-wing Prime Minister Viktor Orbán has repeatedly decried the sanctions as having a larger impact on European economies than their intended target despite successfully using his veto power to carve out exceptions.
Orbán has secured continued imports of Russian oil by pipeline and blocked the addition of several of Putin's allies to the sanctions list, most notably Patriarch Kirill, the head of the Russian Orthodox Church. He also stuck a new supply deal with Russian gas giant Gazprom despite a vow from the EU to find alternative suppliers. 
"Member states are constantly reviewing the sanctions, seeing if we need to respond to further escalation by Russia in this illegal aggression against Ukraine and blatant violation of UN charter and international law," said Peter Stano.
"Sanctions are one of the measures we are using to react to this, because the attack against Ukraine is the attack against us, against our values. And when there will be a decision about (the) next package or amendment of existing packages, this will be a decision for 27 member states to make in unanimity," he added.
The questionnaire people were asked to fill in had previously been described as misleading with sanctions always described as "Brussels sanctions" or emanating from "Brussels leaders" despite the fact that they had been approved by all 27 EU countries, including Hungary.
Hungarian citizens were also asked to give their opinion on possible sanctions on natural gas supplies and nuclear fuel which the questionnaire argued had already led to higher energy prices.
Balázs Orbán, political director for Viktor Orbán, nonetheless said that the "results speak for themselves".
"Brussels must review its sanctions policy and find a new strategy. We need peace, and not new sanctions," he added.