Europe's leaders are younger and less experienced. It probably doesn't matter
Comments
By David Hutt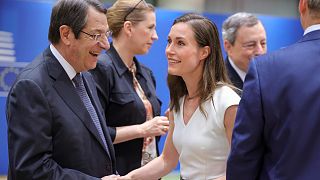 -
Copyright

AP Photo/Olivier Matthys
German Chancellor Olaf Scholz is something of a rarity amongst European leaders: aged 64, he has been an elected politician since the 1990s.
At meetings of EU heads of government, he cuts an avuncular figure as only Nicos Anastasiades of Cyprus is older. Antonio Costa of Portugal and Klaus Iohannis of Romania are the only other leaders to have blown at least 60 candles on their birthday cakes. 
Nine of the 27 EU leaders are meanwhile in their forties. One, Finland's Sanna Marin, has yet to even reach that milestone. 
According to a 2019 report by Bloomberg, the average age of global leaders has increased since the 1950s but European heads of government have been bucking the trend and getting younger since the early 1980s, when the average age was 67.
Today, the average age is just 53, according to an analysis by Euronews.
Across the continent, prime ministers and presidents are not just getting younger, they tend to have had less experience in legislative or formal politics before taking the top job. They are also less reliant on mainstream parties and — much to the chagrin of an older generation — have piggybacked on politic's transition to television and social media.
Macron, Sunak, Zelenskyy
French President Emmanuel Macron only entered formal politics five years before becoming president in 2017 at the age of 39, making him France's youngest leader since Napoleon.
Rishi Sunak, three years his junior, only spent seven years in the House of Commons before becoming the British prime minister last October. Sunak is the youngest premier since the instantly memorable Robert Jenkinson, the 2nd Earl of Liverpool, who took office in 1812.
Italy had its youngest-ever prime minister in 2014, Ireland in 2017, and Ukraine in 2019. In 2017, Sebastian Kurz became the Austrian chancellor at the age of just 31, setting the record as the world's youngest head of government, a title inherited by the then 34-year-old Marin of Finland two years later.
Jan Berz, an assistant professor of political science at Trinity College Dublin, along with his colleagues Ferdinand Müller-Rommel and Michelangelo Vercesi, published a book on this topic last June, titled Prime Ministers in Europe: Changing Career Experiences and Profiles.
Comparing the backgrounds of European prime ministers between 1945 and 2019, they found that around half of those who entered office between 2000 and 2019 had served less than six years as a member of parliament.
On average, that was one year less than their predecessors in the previous decade. They also, on average, had 10 months less experience as cabinet ministers.
The career experiences of European leaders have become less political and more technical, Berz and his colleagues also found, and increasingly varied. In one sense, Europe's leaders are no longer the career politicians they used to be.
A background in business was the route taken by Macron and Sunak, as well as Belgian prime minister Alexander De Croo, for instance.
Leo Varadkar, the current Irish Taoiseach, was a doctor before politics. Ukraine's Volodymyr Zelenskyy, Time magazine's person of the year for 2022, was an actor who played the role of a serendipitous president, the most postmodern of career paths.
Slovenia's recently-elected prime minister Robert Golob spent his entire political career in local government until his electoral victory last June. Several other European leaders have enjoyed a quick leap to head of government after lengthy stints as city mayors or councilors.
Romania's Nicolae Ciucă was a military man until 2019 when he spent a year or so as a senator and defence minister before becoming prime minister in 2021.
'Personality, charisma and public recognition'
One main reason for this trend is the decline of mainstream parties, Berz told Euronews.
"Instead of selecting the prime ministerial or presidential candidate with extensive political experience, political parties increasingly favour candidates with a likable personality, charisma and public recognition," he said.
"This has made it easier for more inexperienced politicians to move up the ranks within political parties and enter top executive positions at a younger age."
Analysts point to other reasons, too. Television and social media have given a greater platform, and power, to individual politicians. Those mediums tend to focus on the personality of individual politicians.
The decline of mainstream parties has made it easier for leaders, such as Macron, to create their own political vehicles.
It's also about greater volatility of European politics, Stefan Lehne, a visiting scholar at the think tank Carnegie Europe, said.
As coalition building has become more common but complex, often involving three or more parties, that has given an edge to "young political entrepreneurs discontented with establishment politics," Lehne explained.
"Politics has become more stressful in times of the 24/7 news cycle and the growing importance of social media," he added. "This again benefits younger politicians who have more stamina and are better at modern communication."
Of course, there are several exceptions.
Mark Rutte, 55, has been serving as Dutch Prime Minister since 2010. Ulf Kristersson, the newly-installed Swedish premier, turned 59 last month.
Up until now, however, the trend has tilted towards male leaders, analysts said.
Although Mette Frederiksen became the youngest Danish prime minister in 2019, she had four years of experience as a cabinet minister and over 17 years in the Danish parliament before that.
Katrín Jakobsdóttir had a decade in the Althing before becoming the Icelandic prime minister in 2017, then aged 41. Kaja Kallas, the Estonian prime minister, also first entered parliament a decade before taking the top job.
Italy's new prime minister Giorgia Meloni, 45, became a lawmaker in 2006, although she held few offices of importance before taking the top job last year.
An exception is the current Finnish prime minister, Sanna Marin, who served just four years as a parliamentarian before assuming the premiership in 2019, aged just 34.
"It may be that Sanna Marin is signalling a change in such gender differences and that the trend away from long political careers will also become more common among female leaders going forward," Berz said.
Although, he added, more research on this subject is needed. More research is also needed on whether Europe's younger cohort of leaders is problematic.
Not all work out.
Older leaders lead to more stability?
Kurz, the former Austrian chancellor, was a "media-savvy chancellor, who came to power promising a 'new style' of politics", as one newspaper put it. But his first government lasted just two years, brought down by a vote of no confidence following a corruption scandal.
He regained the chancellorship a few months later, but his second government lasted less than two years, again, because of another corruption probe. Kurz's successor, Karl Nehammer, 50, only became an elected politician in 2017.
Taavi Roivas became the Estonian prime minister in 2014 aged just 35, but his coalition government collapsed after a no-confidence vote less than two years later. In 2020, he announced his retirement from politics.
Slovakia's Eduard Heger, now 46, who first took up a seat in the unicameral National Council in 2016, has also faced a difficult prime ministership and lost a no-confidence last month.
Analysts told Euronews that it's a toss-up. Prominent figures with decades of political experience, like former German chancellors Angela Merkel and Helmut Kohl, or former French president François Mitterrand, are a rarity nowadays, which may be a problem in crisis situations.
Some reckon older politicians are more accustomed to diplomatic protocol, while those with ample experience in legislative politics have had more time learning how to compromise and do deals with rival politicians. That can make their governments more stable.
Berz of Trinity College Dublin published another paper on that question in 2021.
He and his colleagues found that politically experienced prime ministers are more successful than politically inexperienced prime ministers in terms of enacting their preferred policies.
However, the results showed that a prime minister does not need that much political experience to be successful, he said.
'European politics hasn't suffered'
The first four years that a future leader spends as a parliamentarian increases their performance as prime minister the most. But spending any more years in parliament appears to provide little additional benefit.
"Therefore, I would not say that European politics has suffered from an increasing number of younger and less experienced leaders," Berz told Euronews.
"Instead, selecting younger leaders without typical long political careers has allowed parties to stay connected to voters and may have helped them to be more responsive to voter demands."
What's more, the greatest threat to European unity and cohesion arguably comes from the region's older leaders who have been at the forefront of their countries' politics for decades.
Viktor Orban, 59, has been the Hungarian prime minister since 2010 and a political heavyweight since the 1990s. Jarosław Kaczyński, 73, has been the real power behind Poland's ruling Law and Justice party for decades.
And Vladimir Putin, 70, the invariant Russian prime minister or president since the 1990s, is an obvious example of a leader whose decades of experience don't necessarily mean they make moral or sensible decisions.
Up against Putin is Zelenskyy, 44, a former film actor who had never held political office before his presidential victory in 2019, and who has become the archetypal war leader since Russia's invasion of his country last February.
Many pundits credit his decision not to take up America's invitation to flee Kyiv during the first days after the invasion — which may not have been the decision of an older, more experienced leader — as being instrumental to the willingness of Ukrainians to resist.
Academics also think that younger politicians are more cosmopolitan and accepting of the European Union project, and far less likely to veer down the path of nationalist populism.
"Some of the young prime ministers are probably more European in their outlook, as they have grown up in a highly integrated EU with the euro, Schengen and Erasmus, whereas their older colleagues have been socialised primarily in a national context," Lehne said.
"Altogether, I wouldn't say that the rise of younger leaders has made the EU more dysfunctional," he added.