Thrill seekers across Europe take the plunge on New Year's Day
Comments
By Euronews with AP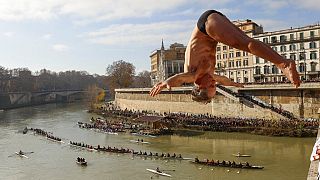 -
Copyright

Riccardo De Luca/Copyright 2023 The AP. All rights reserved
Hundreds gathered in Rome to watch the traditional Tiber River New Year's plunge on Sunday, with one veteran diver dedicating his dive to the late Pope Emeritus Benedict XVI.
Following the true Roman tradition, four Italian divers jumped into the river from the 15-metre-high bridge to welcome in the New Year.
One of the divers was Maurizio Palmulli, 70, who plunged into the water for the 35th year in a row as crowds of bystanders watched.
"We are diving just to keep this Roman tradition alive. Here there is neither politics nor money. I am happy to see many children because they are the ones who will continue this nice tradition," he said.
In Berlin, members of the Berliner Seals swimming club braced the cold waters of the capital's Lake Orankesee.
The annual New Year's Day dip was milder than previous years, with outside temperatures of 16 degrees and water temperatures of 6.6 degrees.
Members donned fancy dress outfits to take the plunge and reflected on their goals for the new year.
"With the community here it's a lot of fun. When you leave the water after swimming you have a feeling that your happiness hormones are flowing," Berliner Seals member Ursula Schwarz said. 
"And I have been involved now for so long. This is my 37th year and something would just be missing if I couldn't go swimming on a Sunday."
While in the Netherlands, thrill seekers blew off their cobwebs and dipped into the icy cold North Sea as part of a New Year's Day tradition in the seaside town of Scheveningen.
The New Year's Dive, as it's known, has grown into a huge event, and is sponsored by Dutch food company Unox, famous for its sausages.
For more watch Euronews' report in the video above.