EU leaders make progress on 'roadmap' to address energy crisis
Comments
By Euronews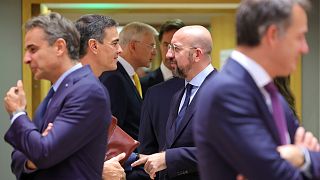 Copyright

AP Photo/Olivier Matthys

-
EU countries agreed overnight to continue work on several emergency measures to curb high energy prices but kicked further discussions down the road to energy ministers.
"There is the strong determination, shared unanimously, as the written conclusions attest, to act together, as Europeans, to achieve three goals: bring prices down, guarantee the safety of supply and continue to work to reduce demand," said European Council President Charles Michel.
Countries agreed to move forward on making joint gas purchases and creating a new gas price benchmark by early 2023 that better reflects the market.
They also endorsed progress on a temporary price ceiling on natural gas transactions and called on the European Commission to "urgently submit concrete decisions" on the measures.
"We do now have a very good and solid roadmap to keep on working on the topic of energy prices," said European Commission President Ursula von der Leyen.
"The leaders have given the strategic guidance we wanted on the proposal we have put on the table," she added.
They will also continue working on a temporary framework to cap the price of gas used in electricity generation -- known as the Iberian exception -- but called for a "cost benefit analysis".
The agreement followed a package of proposals announced by the European Commission earlier this week.
The Commission has received "support for all the proposals it has made. We even asked them to go further," said French President Emmanuel Macron.
He said the EU would likely have measures to implement by the end of the month or the beginning of next month.
Take a look back: here are our updates on Thursday from the EU Council summit.
10.21.2022
23:30
We're signing off for tonight and will be back for more coverage from the summit on Friday. 
10.20.2022
23:49
We're signing off for tonight and will be back with more live coverage on Friday. 
10.20.2022
22:59
EU leaders discussing amended draft conclusions
EU leaders are still discussing the draft conclusions, while adding some amendments, an EU official said.

They're hopeful that they will reach a conclusion tonight and are focusing on conclusions related to the energy crisis and economic situation.
10.20.2022
21:15
17D, the conclusion leaders are likely to debate the most
The most scrutinised documents at summits are conclusions, which are first drafted by ambassadors and sherpas in the days ahead of the gathering.
They outline specific issues of concern or goals that leaders have agreed on. 
Multiple EU diplomats have said that 17D will be the most difficult for leaders to reach consensus on. It pertains to the possible extension of the so-called Iberian model to the rest of the bloc.
In the last draft of the conclusions, the article reads that the Council agrees to task the Commission to urgently work on assessing the impact of "a temporary EU framework to cap the price of gas in electricity generation at a level that helps bring down electricity prices without modifying the merit order, prevents increasing gas consumption, addresses the financing and distributional impacts and manages flows beyond the EU's borders."
10.20.2022
20:12
Leaders have each spoken about energy
Each of the 27 leaders have now voiced their opinions and concerns over the energy proposals outlined by the Commission, Euronews understands.
They will now take a break for dinner with discussions on energy to resume afterward.
The topic is so technical that leaders are not expected to take any decisions on any of the proposals at this summit. Instead, they are expected to reach a consensus on what measures they favour and ask the Commission to do some further work on it.
It will then be up to ministers to hammer out the finer details during Energy Council. 
Ministers have met three times since the beginning of September and are scheduled to gather again on Tuesday (September 25). 
10.20.2022
20:05
Scholz under scrutiny over €200-billion aid programme
This is the first EU summit for German Chancellor Olaf Scholz since his government announced a massive €200-billion financial scheme to help German citizens and businesses cushion the pain from soaring gas bills.
The plan, described by Scholz as a "defensive shield," is meant to introduce emergency price brakes for gas and electricity consumption. It will run for three years.
Although other countries have expressed sympathy towards Germany, a country that was highly dependent on Russian gas and is now scrambling to find alternative suppliers, the €200-billion plan ruffled feathers and raised concerns over possible distortions across the single market. Inevitably, it exposed the gap between wealthy and debt-ridden countries.
European Commission Ursula von der Leyen has not openly criticised Berlin but has insisted that without a common European solution, the bloc risks fragmentation. "It's important that all member states are able and have the fiscal space to invest in this [green] transition," von der Leyen said on Thursday.
As a result, some voices have begun calling for a new issuance of EU debt, following the example of the €750-billion recovery fund agreed in 2020 to fight the pandemic. Another possible model is SURE, the €100-billion programme of cheap loans that helped preserve jobs during the lockdowns.
But some member states, like Germany and the Netherlands, are resisting the issuance of more EU debt and think the bloc should instead focus on the cash that is still available.
"A good part of the funds in the recovery fund have not yet been used and they are also designated for what is necessary now, investing in infrastructure, fighting climate change, investing in renewable energies and so on," Scholz said on Thursday.
10.20.2022
19:48
Russia creating 'large-scale disaster' in southern Ukraine: Zelenskyy
In his address, which was described as emotional by an EU source, Zelenskyy also warned EU leaders that "Russia is deliberately creating the basis for a large-scale disaster in the south of Ukraine."
"We have information that Russian terrorists mined the dam and units of the Kakhovka hydroelectric plant. This is one of the large power facilities. The dam of this hydropower plant holds about 18 million cubic meters of water. If Russian terrorists blow up this dam, more than 80 settlements, including Kherson, will be in the zone of rapid flooding. Hundreds of thousands of people could be affected," he said.
This would also deprive the Zaporizhzhya nuclear power plant of cooling water, Zelenskyy said. 
10.20.2022
19:46
Third of Ukraine's energy infrastructure destroyed: Zelenskyy
The Ukrainian leader told EU leaders virtually that "attacks by Russian cruise missiles and Iranian strike drones have destroyed more than a third of our energy infrastructure."
"Russian terror against our energy facilities is aimed at creating as many electricity and heat problems as possible for Ukraine this fall and winter and for as many Ukrainians as possible to go to your countries," he went on. 
He called on Western allies to send more "anti-aircraft and anti-missile defence" systems to Ukraine so that it can defend its critical infrastructure.
He also renewed calls for more sanctions on Russia, Iran and Belarus. 
The EU has so far rolled out eight different packages of restrictive measures against Russia for its illegal and unprovoked war against Ukraine and on Thursday slapped sanctions on three Iranian individuals and one entity responsible for drone deliveries to Russia. 
"It is good that there is already a first step: new individual sanctions against Iranian figures and companies have been approved. But a few individuals and companies are not only responsible. We need more systematic steps," he told leaders. 
10.20.2022
19:15
EU leaders debate first-ever cap on gas prices
Among the energy proposals currently on the table, one stands out: an EU-wide cap on gas prices. But this is not the ambitious price cap on all gas imports, as some member states have demanded, and instead resembles an emergency backstop.
The measure, as suggested by the European Commission, would apply to transactions taking place at the Dutch Title Transfer Facility (TTF), Europe's leading hub, and other similar venues.
Prices at the TTF reached a record-breaking high of €349 per megawatt-hour in August and then began a steady downward trend. Trading on Wednesday closed at €112.
The proposed cap would act as a ceiling and effectively limit the maximum gas price at which the TTF is allowed to trade. The ceiling is expected to be wide and would be triggered only in cases of extreme speculation and volatility, as the ones we saw in August. Think of it as a "pricing correction mechanism."
The measure, which is under development, would be in place until the EU sets up a new trading hub only for liquefied natural gas (LNG). The Commission thinks that the TTF is overly influenced by pipeline gas and therefore vulnerable to the Kremlin's energy manipulation.
10.20.2022
19:01
What exactly is the Iberian model?
Another topic of conversation this evening will be the so-called Iberian model, or Iberian exception. This system was introduced by Spain and Portugal to lower electricity prices for consumers. So how does it work?
In short, Spain and Portugal have launched an €8.4 billion subsidy programme to partially finance the price that power plants pay for gas. The difference between the real market price of gas (which has been very high since Russia launched the invasion of Ukraine) and the capped price of gas is paid by the government.
The cap is a direct grant to power producers to help them pay for the expensive fuel they need to run their plants. This allows plants to offer electricity at more affordable prices for households and companies. The system was approved in early June and will run until May 2023.
The European Commission has said it is studying a possible extension of this Iberian model to the entire EU territory. But the idea carries high risks. How costly will an EU-wide state-aid programme be? How can the EU prevent cheap electricity from leaking outside its borders? How can the Iberian model apply to countries with different energy mixes? How much will gas consumption increase if customers see that prices are artificially capped?
Countries like Germany, Belgium and the Netherlands have indicated that, for various reasons, this model will not be appropriate to tackle their energy problems.