Europe's week: Fresh Russia sanctions, human trafficking and Hungary's latest rule of law woes
Comments
By Euronews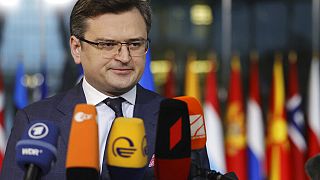 -
Copyright

Olivier Matthys/The Associated Press
It was another week of meetings and gatherings in an attempt to stop the war in Ukraine.
New York-based Human Rights Watch reported war crimes carried out by Russian forces in Ukraine, and the atrocities in the small town of Bucha dominated the European Parliament's plenary session in Strasbourg.
The president of the European Parliament, Roberta Metsola, who visited Kyiv last week, updated MEPs on her trip.
"In Kyiv, I was clear. These are war crimes that were perpetrated by war criminals," Metsola said on Monday. "And these coordinated acts cannot remain unanswered and we will hold all those responsible to account."
European Commission President Ursula von der Leyen, who followed in Metsola's footsteps in travelling to Kyiv on Friday, announced the fifth package of sanctions targeting Moscow, which included a proposal for an EU wide-ban on Russian coal.
"This fifth package has six pillars," von der Leyen said. "First we will impose an import ban on coal from Russia worth four billion euros per years."
But for Ukraine's foreign minister, Dmytro Kuleba, the EU and NATO allies are still not doing enough. On Thursday, he was in Brussels to tell the military alliance's foreign ministers that his country needs "weapons and weapons".
"Either you help us now -- and I'm speaking about days, not weeks, or your help will come too late, and many people will die, many civilians will lose their homes, many villages will be destroyed exactly because this help came too late," Kuleba told reporters on Thursday.
Traffickers paradise
Meanwhile, another ugly consequence of the war in Ukraine is the fact that thousands of women are travelling across the continent alone at risk of exploitation from people smugglers and traffickers.
On Tuesday, MEPs voted on a resolution this week calling on EU MS to sanction and stop smugglers and traffickers, with Green MEP Alice Bah Kuhnke stating it is Europe's job to prevent it.
"The EU has to eradicate men buying sex, men buying women and children. How ridiculous is that? How sick is that? Who is kidnapping children? Who has sex with children? Who buys women who are fleeing, who have lost everything? It is those men who have a special place in hell," the Swede said in Strasbourg.
Klaus Vanhoutte, Director of Payoke, told Euronews that the increase in human trafficking since the beginning of the war in Ukraine is deeply disturbing.
"We're obviously very concerned, right," Vanhoutte said.
"it's quite obvious coming from the situation of a war zone, basically having very little financial means, actually not knowing where to go or where they're going to end up."
"Those are, in fact, the perfect potential victims for human traffickers, be it for sexual exploitation or economic exploitation," he concluded.
Brussels triggers rule of law mechanism on Hungary
In Strasbourg on Wednesday, von der Leyen said the European Commission had triggered a process in Hungary that threatens to link the payment of EU cash to respect for rule of law.
It came two days after Viktor Orban secured a fifth -- and fourth -- consecutive term as Hungary's prime minister.
Orban has clashed frequently with the European Commission over respect for fundamental EU values, such as LGBT rights, the rule of law and attacks on independent media.
Now, Brussels has notified Budapest it is triggering the so-called "conditionality mechanism" over rule of law breaches, opening the door to financial sanctions.
"The Commission has today spoken to the Hungarian authorities that we will now send a formal letter to start the conditionality mechanism," von der Leyen said.
Earlier in her address to the European Parliament, she said that the European Commission required Budapest to implement reforms to tackle corruption.
However, she noted that the two sides have "not been able to find common ground".
She added that the European Commission has followed the procedure as laid out by treaties by addressing a letter of formal notice and later referring the case to the European Court of Justice and that upon receiving Hungary's answers, they drew the "conclusion we have to move on to the next step".