Effective measures are put in place to prevent flood risks in Ravne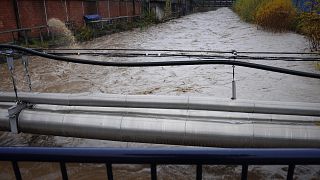 The ironworks company, SIJ Metal Ravne, in Slovenia produces tonnes of steel every year. It is one of the biggest producers in Europe. It also has 400 years of history and heritage in Ravne na Koroskem in the north of the country.
In 2012, two of the Drava Basin's tributaries, the Mislinja and the Meza burst their banks causing havoc and destroying fields, roads and industrial areas in this area. The Meza runs close to the factory and it was at this time that the ironworks came drastically close to disaster. Its production facilities were just five centimetres from being inundated.
Slovenia is a water-rich country due to its numerous waterways, but this also makes it susceptible to flooding. Since the floods in 2012, efforts have been made to protect areas close to rivers, including the area surrounding the metal company.
Euronews spoke to Smiljan Juvan, the technical designer of the Meza flood control measures, and he gave us the latest on what is being done to avoid flooding problems.
An off-the-ground construction has already been made to hang the metal factory's installations on. It has been made so that the gas pipelines, electricity, high voltage lines, hot water pipelines, technical gases, electricity and water pipes are not at ground level.
Juvan also told us that the valley where the factory is located is "narrow and there are not many floodplains to hold back the floods". Therefore, as an additional measure, in Poljan just ten kilometres upstream of the river Meza, a storage reservoir is expected to be built. "Some agricultural areas will be sacrificed so that when the water rises, it is discharged there", he adds.
The water will be regulated by sluices to make sure it is contained and does not reach the urban and industrial areas.
To watch the full interview with Smiljan Juvan, click on the media player above.