Companies used artificial intelligence to monitor workers during pandemic, says trade union
Comments
By Euronews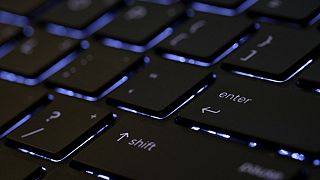 Copyright

CHRIS DELMAS/AFP
The use of artificial intelligence (AI) to monitor employees working from home increased during the pandemic, according to one of Europe's largest trade unions.
Isabelle Schömann, from the European Trade Union Confederation (ETUC), told Euronews it had identified some unsettling practices in terms of companies watching their employees.
"What we see is that some algorithms, in the online way to work, have been introduced and have been used more prominently to trace the work and the way workers are working," Schömann explained.
"How long they are working; how many times the keyboard has been touched, for example, even to have this bio-metric tracing and this is not acceptable. You can't be big brother in all of those dimensions and this is what we called undue surveillance."
The use of AI by businesses has been expanding rapidly, according to the Brookings Institution, with hiring systems that use algorithms becoming more common.
A recent survey by asset management company Mercer also found that 55% of HR leaders in the United States already use predictive algorithms when recruiting.
In these cases, it can be that AI systems help reduce biases that humans might otherwise have, but they can also create new forms of discrimination.
"These algorithms can identify certain dimensions that would indeed target a female application," Schömann said. "Indeed, here what we see is that there is no guarantee that the way algorithms are produced would prevent such discrimination at the workplace nor for example when these algorithms are used to evaluate the performances of workers."
An increase in the pervasive use of AI over workers is causing concern among some EU legislators, however, who feel some of its uses have already gone too far.
"We have to improve public safety. This cannot happen and we will never allow it to happen at the expense of human rights," Bulgarian MEP Petar Vitanov told Euronews. "So, we have to find a thin balance between keeping data protection, keeping the right of privacy, the rights of freedom of expression on one hand, and better security.
"The red-line is somewhere in the middle and we have to find it and put it in the right spot."