EU leaders expected to confirm financial aid for Turkey migrant help at summit
Comments
By Euronews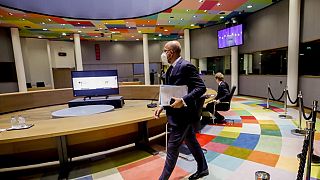 Copyright

OLIVIER HOSLET/AFP
European Union leaders are expected to confirm further financial support to Turkey for hosting refugees and taking back migrants from Greece, according to one EU diplomat.
The decision is likely to be taken during Thursday's summit in Brussels when EU heads of state and government will meet.
The official said that leaders will give the Commission a mandate to come up with a concrete proposal on an agreement with Ankara without delay.
Turkey currently hosts three million refugees, and according to German chancellor Angela Merkel, this entitles them to assistance.
Also up for discussion is the modernisation of the customs union between the two sides, which Ankara wants to settle sooner rather than later.
Marc Pierrini from Carnegie Europe told Euronews that this part will be particularly difficult.
"We might see some progress on funding for Syrian refugees and that will be difficult, but we might see that," Pierrini said. "But for the rest, I see a wait-and-see policy contrary to what the Turkish leadership has said in the past couple of days, saying, for example, that the customs union should start without preconditions."
He added: "And, of course, there is a rule of law precondition because European business, whether you're talking of traders, investors or bankers - they want to see a level playing field."
EU-Russia relations
Leaders will also discuss the bloc's relationship with Russia, which has soured in recent years.
Vladimir Chizhov, Moscow's ambassador to the EU, told Euronews this week that Europe needs to "get its act together" when it comes to relations between the two.
Sergey Lavrov, Russian Foreign Minister, also said Thursday that NATO and its allies were imagining the threat posed by his country.
"The actions of NATO for controlling Russia - we have seen this course is coherent in documents of the recent NATO summit - lead to the escalation of military-political tension in Europe," Lavrov said during the Russia Security Conference in Moscow.
 "At the mentioned summit, the alliance confirmed once again its inability to look beyond reality invented by themselves. In particular, NATO strategists imagined once again aggressive actions of Russia."
The foreign ministers' words are in response to the military alliance's summit last week, which saw the organisation's members rallying together against Russia, but also reacting to the European Commission's proposals last week for what it thinks the bloc's strategy towards Russia should be like.
It wants the EU to have a "more robust and resilient" approach towards Moscow and for member states to act in a unified way when needed, rather than responding in different ways.
But that avenue to potential unity on Russia was nearly shattered before Thursday's summit had even started, after the French and Germans surprised diplomats preparing for the meeting on Wednesday with a new and unexpected proposal from the two on how to approach relations with the Kremlin.
They want to restart summits between the EU and Putin, which were stopped after the Russian annexation of the Crimean Penisula in 2014.
But many of the Eastern European countries like Poland want the 27 member states to take a harder line towards Moscow.
What was originally looking like it will be a somewhat normal conversation on Russia, is now set to be slightly more heated.
COVID-19
The pandemic is one of the other main topics up for discussion.
With the vaccination rollout across the continent progressing at a positive rate, leaders are now expected to address any remaining obstacles related to the right of free movement across the EU.
The Commission will also report on the lessons learned from the pandemic so far and how any future crises can be avoided.
There are concerns, however, at the current epidemiological situation in relation to the Delta variant originally found in India, which is spreading rapidly throughout many member states.