US recognition of Armenian killings as genocide revives an old debate
Comments
By Bryan Carter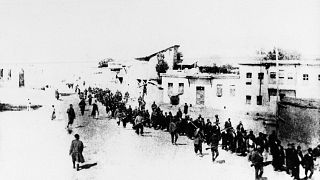 Copyright

ASSOCIATED PRESS/AP1915
The United States' decision to recognise the deportation and killing of Armenians during the Ottoman Empire as a "genocide" has revived a long-running debate in the European Union.
There are 16 EU countries -- as well as the European Parliament -- that recognise the atrocities along the same lines.
Thirteen other countries around the world also do, excluding the US.
The Armenian community of Belgium welcomes this recognition but says that education about the killings and the fight against denialism are even more important.
"Not every historical event needs to be recognised by every parliament to be understood as fact. The Armenian genocide simply is fact," Nicolas Tavitian, president of the Committee of Armenians in Belgium, told Euronews.
"It is no longer a question of a campaign for political recognition, especially now that the United States has recognised it.
"It is now a question about understanding the consequences of denial and pushing back against denial and against Turkey's aggressive policies towards Armenia," he added.
Between 1915 and 1917, an estimated 1.5 million Armenians were killed or starved at the hands of Ottoman Turks. Despite widespread academic consensus that these atrocities amounted to genocide, the Turkish state has always rejected this term and the number of casualties, arguing that mass killings happened on both sides.
Some Turkish residents in Brussels say however that the recognition of the killings as genocide is a political weapon wielded by the West to weaken Turkey.
"This is a political decision," said Mesut Turkoz, a local resident. "Turkey is progressing, becoming more powerful, especially in the arms sector, so there is a bit of jealousy."
Turkish President Recep Tayyip Erdogan slammed the United States' decision but has so far refrained from taking important steps against its NATO ally. A similar attitude was observed in the past when EU countries recognised the killings as genocide.
According to Seda Gürkan, lecturer on Turkish politics at the Free University of Brussels, Turkey's reaction to this issue is mostly emotional, and Ankara cannot really afford to respond strongly.
"Turkey is becoming increasingly lonely in international relations. Its relations with countries in the region, like Russia, Israel but also with the European Union are very problematic and the economy is very fragile. So during a period when Turkey needs its partners, desperately needs its partners, we shouldn't expect a very strong reaction from Turkey" Gürkan explained to Euronews.
Rather than a diplomatic backlash, she argues that Turkey could use the Armenian question to stoke up nationalism domestically.
Something that could ultimately worsen its relations with the West and with the neighbouring country of Armenia.