Spain expects increase in COVID vaccine shipment
Comments
By AP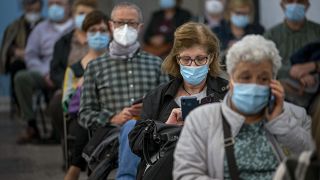 -
Copyright

AP Photo/Emilio Morenatti
Spain's health officials say that vaccination efforts are picking up pace after a record week in both the arrival of doses and the number of shots administered.
Spanish Health Minister Carolina Darias said Wednesday that the European country would receive 4 million doses of COVID-19 vaccines this week. That would be a high mark for Spain, whose vaccination campaign had suffered like the rest of the European Union from shipment delays by drugmakers.
Darias added that the 1.8 million shots administered over the past week was also a record for Spain.
Spain's government is sticking to its pledge to get jabs in the arms of 70% of the population, some 33 million people, by the end of the summer. So far, 11.2 million of Spain's 47 million inhabitants have received at least one shot.
"The vaccines are buying us time against the virus," Darias said.
Spain's incidence rate remained steady at 230 cases per 100,000 inhabitants over 14 days. The nation's state of emergency that has enforced mobility limitations and a nightly curfew is set to conclude on May 9.