Germany commemorates 80,000 COVID-19 victims with national ceremony
Comments
By Euronews with AFP, AP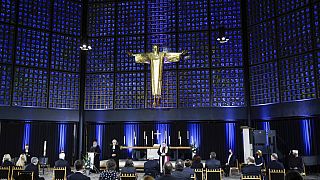 -
Copyright

Gordon Welters/Pool KNA via AP
Germany is holding a national memorial day to commemorate the nearly 80,000 people who lost their lives in the coronavirus pandemic.
On Sunday morning Chancellor Angela Merkel and German President Frank-Walter Steinmeier attended a morning mass in the Kaiser Wilhelm Memorial Church, a Berlin landmark dedicated to peace and reconciliation.
"Sickness, dying and death cannot be just pushed away in this long year," said George Baetzing, chairman of the German Bishops' Conference, during the service. "They have cut deeply into the lives of many people."
The two leaders then attended a ceremony broadcast on public television in the Konzerthaus, a concert hall in central Berlin. The number of guests was limited due to the crisis.
In his speech, Steinmeier reminded the audience of the ongoing "human tragedy" behind the country's daily COVID-19 statistics.
"We, as a society," he said, "have not reminded ourselves often enough that individual destinies, human lives, are behind all of these numbers... a society that ignores this suffering will suffer as a whole."
He also highlighted the cases of those Germans who had died alone, in hospitals, care homes and hospices, without being able to say goodbye to their loved ones due to coronavirus restrictions.
"Many people have died without their relatives and friends being able to say goodbye to them," he said. "Some find their loss twice as hard to bear because they were denied the chance to see or touch the dying one last time."
Germany's national day of commemoration, he said, served to remind people remind people that "they are not alone in their suffering, not alone in mourning."
Relatives of German COVID-19 victims pay tribute to loved ones
Those present also heard moving personal testimonies from Germans who had lost family members to COVID-19. One of them was hospital worker, Anita Schedel, whose husband Hans Schedel, a physician, died of COVID-19 on April 14, 2020.
"To this day," she said, "[I see] those images of the long and lonely corridor in the hospital - all the beeping and the lights, and in the middle of it my Hans, marked by his illness. All I could do was squeeze his hand, and that I could do that is something I'm grateful to the hospital for, to this day.
"Life is completely different to how it used to be. It wasn't my decision. But my husband would expect me to recognise the value of the life I still have."
During her speech, Anita Schedel also implored Germans to keep following social distancing and hand hygiene protocols, even if "pandemic fatigue" was setting in after 12 months.
"Nothing can bring my husband back," she said. "But every person who is spared my fate, and the fate of 80,000 others who have died here in Germany, is worth preserving.
"Stay strong. Stay optimistic. I'm trying to do the same."
After these testimonies, a live orchestra played Samuel Berber's Adagio for Strings as the names and photographs of some of the German citizens who had died from COVID-19 were displayed on large screens on either side of the auditorium.
The ceremony then drew to a close on what appeared to be a resolute note, with a rendition of Beethoven's Ode to Joy as the space was flooded with golden light.
People across Germany had also been also invited to take part in the commemoration by placing a lit candle in their window on the Saturday and Sunday evenings.
"It is very important," Steinmeier had said prior to the event, "to take a break and say goodbye in dignity to all those who died during the pandemic, including those who did not only succumb to the virus but also died in loneliness."
Health officials expect Germany COVID-19 death toll to rise in third wave
The national mourning day comes as Germany battles a third wave of coronavirus infections, with newly-recorded cases and deaths again on the rise. This has been blamed on the spread of new variants of SARS-CoV-2, which are thought to be more infectious than the original virus.
Germany's confirmed death toll from COVID-19 stood at 79,914 on Sunday, an increase of 67 over the previous day. This was the fifth-highest total in Europe, after the U.K., Italy, Russia and France.
The Robert Koch Institute (RKI) has also warned that younger people — from age 15 to 49 — are now contracting the virus in higher numbers, which is putting further strain on the health system as "younger patients stay in intensive care units longer than older ones."
The number of seriously ill people aged over 80 has stabilised, however. This has been attributed to the rollout of vaccines; more than 21 million German residents have now received at least one dose of vaccine, and some 5.4 million are now fully inoculated.
Merkel appealed to federal lawmakers on Friday to back a bill that would see a uniform set of restrictions imposed across the country.
Currently, each region is able to mandate its own restrictions but the bill would force landers to impose the same measures, including night-time curfews and the closure of shops and cultural and sports facilities, if the seven-day incidence rate reaches 100 cases per 100,000 population.
"The virus does not forgive half-measures, they only make it worse," Merkel told lawmakers, describing the situation as "very serious".
The Bundestag is to vote on the legislation next week.