How is Greece's Epirus region building a future from its past?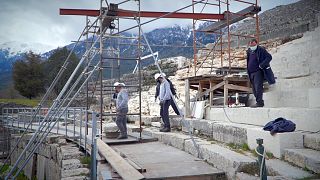 While work is underway to restore and link up the ancient amphitheatres of Greece's Epirus region in a new tourist trail called: 'The Cultural Route of the Ancient Theatres of Epirus', we meet with the man locals say is the "soul of the project." George Syris is an architect and assistant professor in Architectural Engineering at the University of Ioannina.
"These theatres are connected by a series of routes, along which modern Epirus develops. Visitors take a long walk through the ancient past of our region, but along the way, they discover many other sights. They also taste local products and visit traditional shops," says Syris expectantly. "All this, under one roof, under one cultural product called the 'Cultural Route of the Ancient Theaters', which is not only a historical route, but a trip to modern Epirus.""The work is done in much the same way as in antiquity. We put a lot of emphasis on the hands of our sculptors. We learn from them and they learn from us. I think we have created a new technical school," he adds.
"This is a part of the second phase of the program of the ancient theatres. That is, to create a school of craftsmen who, in the coming decades, will have the knowledge to restore these magnificent monuments.
"When the pandemic has finally left us, I'm sure these ancient theatres that right now has no visitors, will be filled with school children and tourists who want to experience the ancient culture of Epirus.
"I have lived in Ioannina, in Epirus for many years and I feel that this project is my child. Maybe it sounds excessive, maybe a bit melodramatic. Yet I feel that we have managed to create and develop a project that significantly contributes to the development of Epirus. I believe that this project has marked my life."