Multimodal transport hub development making travel easier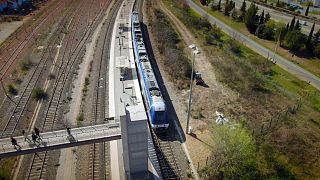 In the south of France, between Aix-en-Provence and Marseille, a new multi-modal transport hub in Gardanne is encouraging users to leave their vehicles behind and use public transport.
Catherine Fabre is head of the operational projects department at the Aix-Marseille Métropole, and she told Euronews more about their ambitions for the project.
"The decision to build this hub was taken in 2015 to meet future needs related to the modernisation of the Marseille Gardanne Aix railway line.
"By the end of 2021, the number of passengers at the Gardanne railway station should have doubled as a result of the modernisation of this line.
"This multimodal exchange hub is part of a global transport development plan for the metropolitan area, and there's plans for more hubs like it on the agenda," she added.
The Gardanne hub is also committed to being more ecological.
The car park located there has been equipped with photovoltaic panels, and also has around twenty spaces for electric vehicles. The trains there also being replaced with less-polluting ones.
The project took two years to complete.