EU medicines regulator finds 'possible link' between AstraZeneca jab and blood clots
Comments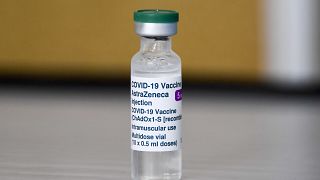 -
Copyright

AP Photo/Alberto Pezzali, File
The European Medicines Agency (EMA) said it has found a "possible link" between the AstraZeneca COVID-19 jab and "very rare cases" of blood clots.
But it has nevertheless maintained the benefits of the vaccine outweigh the risks of side effects, explaining that COVID-19 is a "very serious disease".
The determination comes after a review of 62 cases in Europe, 18 of which were fatal. They involved blood clots in the sinuses that drain from the brain and 24 cases of blood clots in abdominal veins.
The reported cases of unusual blood clots were mostly observed in women under the age of 60 but the EMA committee did not conclude that age and gender were clear risk factors.
"It is important that both vaccinated people and healthcare professionals are aware of the signs and symptoms of these unusual blood clotting disorders and can spot them quickly to minimise the risk," EMA executive director Emer Cooke said at a press conference.
Cooke said the "very rare" blood clots should be listed as a possible side effect but emphasised that "the risk of mortality from COVID is much greater than the risk of mortality from these side effects".
The AstraZeneca jab has been proven to reduce hospitalisation and death after a single dose.
Will other COVID vaccines have similar issues?
The EU regulator also said it is examining other vaccines for similar blood clot risks, flagging that "at the time of authorisation of Johnson & Johnson, there was an early sign of an increased risk of venous thromboembolism not yet confirmed".
"There have been three cases with the Johnson & Johnson vaccine of blood clots associated with low platelets which have some similarities to these cases that we've been describing today with the AstraZeneca vaccine. However the numbers are extremely small compared to the 5 million patients, vaccines, that have received the Johnson & Johnson vaccine worldwide," the head of EMA's data analytics and methodology said.
The Russian made vaccine, Sputnik V, also uses the same technology as AstraZeneca and Johnson and Johnson but the EMA has not yet approved it.
The EMA press conference will be followed by an informal meeting of EU health ministers, the Portuguese Council presidency announced. It is up to individual EU countries to decide who should be given the AstraZeneca jab.
The EMA is asking for further studies including laboratory studies, clinical trials and epidemiological studies.
Two universities in Europe will also be looking at healthcare data on risk factors for blood clots.
'Four-in-a-million at risk of blood clots'
Meanwhile, the UK's Medicines and Healthcare products Regulatory Agency (MHRA) also confirmed a "possible link" between the jab and blood clots, stating that there were 79 cases of serious blood clots in 51 women and 28 men after one dose of the jab. Of these cases, there were 19 reported deaths.
Nearly two-thirds of the 31.1 million doses that had been administered in Britain by March 31 have been from AstraZeneca, which means "the overall risk of these blood clots is approximately 4 people in a million who receive the vaccine," the MHRA said.
It added that the data suggests "there is a slightly higher incidence reported in the younger age groups".
It upheld that the "benefits of vaccination continue to outweigh any risks" but advised that "careful considerations be given to people who are at higher risk of specific types of blood clots because of their medical condition."
The NHS has advised people under 30 without other health conditions to get a different COVID-19 vaccine.
Multiple countries had suspended the jab
Multiple European countries such as Denmark and Norway have maintained suspensions on vaccinations with the AstraZeneca/University of Oxford jab over concerns about the clots.
Other countries, including France, the Netherlands, and Germany, continued the use of the vaccine for individuals over a certain age, stating that blood clots were mostly observed in younger adults.
In an interview with a Rome newspaper on Tuesday, EMA official Marco Cavaleri, who is head of health threats and vaccine strategy, said that he thought there was an association between the vaccine and blood clots.
He said that the benefit-risk analysis would have to be reassessed for younger women, who were more affected by the blood clots.
Germany's Paul-Ehrlich-Institut has said that approximately one case per 100,000 vaccinations with the AstraZeneca jab had been reported.
The EMA, meanwhile, explained that in one year of women taking the contraceptive pill, there will be four excess blood clots in 10,000 women.
In the UK, a trial in children was halted amid concerns that the vaccine caused serious blood clots in some adults.
AstraZeneca frequently in the news
AstraZeneca has been subject to multiple international news headlines with its coronavirus jab.
The company had a public row with the European Commission earlier this year after announcing that it was unable to deliver as many doses as originally agreed with the bloc.
AstraZeneca has also previously been criticised for its efficacy data, with a US independent review board recently saying it was "concerned" about incomplete efficacy information in a press release.
The US president's chief medical advisor Anthony Fauci said the data were "quite good" and that the press release created an "unforced error" that would cast doubt on the vaccine.
Earlier, the company was criticised for releasing data on two separate dosing regimens.
The vaccine, which is cheaper than others currently available, is also pivotal to the World Health Organization, Gavi and the Coalition for Epidemic Preparedness Innovations (CEPI)'s COVAX Facility which aims to supply lower and middle-income countries with coronavirus jabs.