Children are the invisible victims of the COVID-19 pandemic: advocacy group
Comments
By Elena Cavallone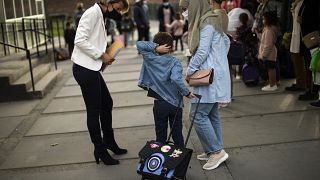 -
Copyright

Francisco Seco/Copyright 2020 The Associated Press.All rjghts reserved
Children suffering from violence and neglect are the invisible victims of the COVID-19 pandemic, an NGO has said. 
Eurochild is concerned about an escalation of violence against children as parents experience stress due to a loss of income and job uncertainty.
Jana Hainsworth, Eurochild's secretary-general, says that one in five children in Europe feel sad or unhappy most of the time.
"This is really quite shocking and this increases significantly among those children with disabilities [and] children who identify themselves as LGBTQI," she said. 
In children that suffer from more serious mental health issues, one in ten experiences extreme anxiety or depression, she added.
Prior to the pandemic, 18 million children were facing social exclusion and poverty, according to the European Commission, a number that is expected to have increased during 2020.
Last week, the Commission launched a strategy on childrens' rights, including a proposal for a so-called child guarantee to tackle inequalities.
The commissioner in charge of the policy, Dubravka Šuica, told Euronews that the aim is to encourage member states to design child-centred policies and strengthen the already existing child protection systems.
"This strategy is very timely because we are talking about the pandemic, the socio-economic crisis, about COVID-19. So we want all children of Europe to have the same access to education, healthcare, childcare, nutrition, housing, sport and cultural activities," Šuica said.
The commission wants member states to use at least five percent of EU social funds to combat child poverty and use money from regional development funds to invest in social infrastructures for children.
They also want governments to use money from the pandemic recovery fund.
"Sometimes you think this is only a slogan - children are the future- but this time it is real, it is a real working for children, we are working for next generation and we are putting the foundation for the next generation," Šuica explained.