The European mobile medical lorry fighting COVID-19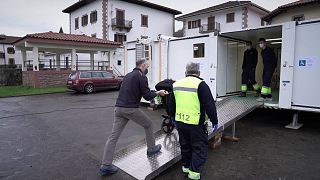 The EGALURG cross-border cooperation network has a mobile hospital is called UMPEO (United Mobile Polyvalente Europe Occitanie). It travels around the Pyrenees, in both France and Spain, to rural areas offering medical relief in cases of emergencies. It was recently in Oronoz-Mugaire in the Baztan area of Spain to help with vaccination against COVID-19. 
Tomás Belzunegui is in charge of EGALURG in Navarre. He tells us what this acronym means and how they planned to use the lorry before the COVID crisis:
"EGALURG is emergency care under equal conditions; In other words, it's not about me providing better care to one person over another due to their place of residence. We just want to promote good care, equal care in towns that are very far away".
"The most visible project at the moment is this mobile hospital that was designed in Toulouse and which we've brought to Navarre to try out. In reality, it is an infrastructure that is designed for any kind of disaster or foreseeable risk situation. For example, we could deploy it at the Pamplona City Hall square, in the context of the San Fermines, during the running of the bulls, for example".