Climate change: US to formally rejoin 2015 Paris Agreement on Friday
Comments
By Euronews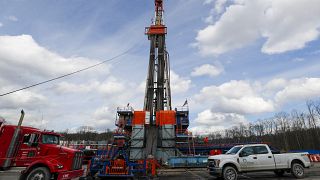 The United States will officially rejoin the Paris Climate Agreement on Friday.
One of President Joe Biden's first executive orders was to revoke Donald Trump's decision to abandon the treaty in 2017.
Biden is also pledging to reach net-zero emissions no later than 2050, ensuring the US achieves a 100% clean energy economy.
And with the European Union sharing the same goal, Miapetra Kumpula-Natri, the vice-chair of the European Parliament's delegation for relations with the US, told Euronews that she is pleased the US has come back into the climate-fold.
"We, with the recovery fund, and they with their climate plan, are investing a lot for this. We can also guide and show the way and actually there is coming a kind of good competition in climate change technologies as we heard from John Kerry. The very first speeches he made as a climate ambassador were that exports are also going to be one part of the strategy," the Finnish MEP said.
Although China is the world's biggest polluter, with almost a third of global emissions, the US comes in second, due to its use of fossil fuels and its large agricultural and industrial sectors.
Which is one of the reasons why President Biden wants to implement a $2tn (€1.65tn) climate plan aimed at creating 10 million jobs in the clean energy sector.
And according to the CEO of the American Chamber of Commerce to the EU, Susan Danger, the business sector is on board because it will also make it easier to innovate and trade with the EU.
"In order for business to invest, which is a long-term project, it needs to know that the environment is stable, predictable and that there is certainty," Danger told Euronews.
"Then they can put their money into the new technologies that are needed not only for companies to reduce their own carbon footprints, but what our companies have been doing for many years already is providing solutions for all parts of society and for other companies also to reduce their carbon footprint."