Boris Johnson warns local leaders he will intervene if they continue to reject COVID-19 measures
Comments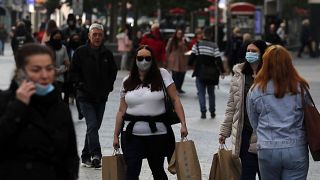 -
Copyright

Frank Augstein/AP
Boris Johnson has warned local English leaders rejecting coronavirus restrictions that he will intervene if they fail to "engage constructively" to reach an agreement with him.
Speaking at a Downing Street press conference, the UK prime minister referred directly to the mayor of Manchester, Andy Burnham, who has been resisting bolstered coronavirus measures for his region, and urged him to "reconsider" his stance.
"On recent trends, in just over two weeks there will be more COVID patients in intensive care than at the peak of the first wave, so I urge the mayor to reconsider and engage constructively," Johnson said on Friday.
"Of course, if an agreement cannot be reached, I will need to intervene in order to protect Manchester's hospitals and save the lives of Manchester's residents.
"But our efforts would be so much more effective if we work together."
Friday's conference was the latest stab amid a bitter back-and-forth between the two leaders after Burnham accused the prime minister of treating northern England as the "sacrificial lamb" for localised restrictions.
It comes as leaders in both Lancashire and Liverpool agreed to move to the government's top level of measures, meaning hospitality venues are forced to close and household mixing is banned.
Gyms and leisure centres have also been forced to shut in Liverpool.
Burnham, however, does not want to see the same introduced to Greater Manchester until the government can guarantee a better support package for businesses that will be affected.
He has demanded shuttered businesses receive money to pay staff 80% of their wages, which would be the same as the original furlough scheme introduced in March.
In response, Johnson said he could "completely understand" Burnham's reluctance as a lockdown would be "far from a pain-free course of action".
He then warned: "I must stress that the situation in Greater Manchester is grave and it worsens with each passing day."
According to Johnson, cases of COVID-19 have doubled in Greater Manchester in the last nine days alone.
There are also now 690 cases per 100,000 people in the 16-29-year-old age bracket in the region, while the over-60s are seeing 224 cases per 100,000.
Also on Friday, the Office for National Statistics (ONS) estimated there were around 27,900 new COVID-19 infections in England every day — a number more than 10,000 cases higher than the official figure for the UK as a whole.
This official number sat at 15,560 positive results for the virus on Friday, with another 136 deaths.
In France and Germany, meanwhile, regional authorities have also been staging a push back on strict measures being introduced.
The administrative court in Toulouse ruled on Friday to suspend an order across the prefecture of Haute-Garonne, which would have seen bars closed for a fortnight, alongside other measures to hit restaurants.
According to the judge, "it had not been demonstrated that a total closure was necessary, appropriate and proportionate to the aim pursued in the fight against the spread of COVID-19".
A similar action has also been taken by the administrative court in Berlin, which overturned measures imposing a night-time curfew beginning at 11 pm.
It said there had been no evidence to suggest that bars adhering to current rules with masks and social distancing had been increasing transmission rates.
Following from Thursday, the start to the weekend has seen another round of coronavirus records smashed across Europe.
Alongside France's 30,000 cases in 24 hours, other daily increases on the continent have reached all-time highs: Germany with 7,300, Italy with 10,010, and the Netherlands with 7,984 new cases on Friday.
Similar records were also broken again in Switzerland, the Czech Republic, Slovakia, Austria and Bosnia and Herzegovina — where this national record has been topped three days in a row.
It should be noted, however, that testing capacity for COVID-19 has hugely increased across Europe since the first wave of the virus, and the daily death rate has not yet reached levels seen in the spring.
Extra lockdown measures have already been re-introduced across various countries this week, whether in action now, or to be enacted this weekend.
From midnight on Saturday, nine metropolitan areas in France will be subject to a curfew from midnight, while more than half of England will be banned from mixing indoors with other households, and Northern Ireland goes into a partial lockdown.
The Netherlands is already undergoing its own partial lockdown, and Poland has announced further restrictions for its "red zones".
Belgium, meanwhile, has said it will be following the Dutch route by closing all cafes and restaurants on Monday for four weeks.
It currently has the second-highest infection rate per capita in Europe, behind the Czech Republic, which is equally struggling with an enormous surge of infections.
The country of 10.7 million people has seen its death rate skyrocket by 83% this month alone, while this week saw 4.9 deaths per 100,000 people.
To prepare for a continued surge, the Czech government has now begun building a makeshift hospital and has negotiated with Germany to send patients over the border if space becomes tight.
Currently, Russia is faring worst in Europe with the virus, having recorded 1.3 million cases, and is followed by Spain and France with 936,000 and 851,000 cases respectively.
The UK, meanwhile, has the worst death toll on the continent with 43,000 people dying with the illness.
This is followed by Italy, with 36,000 deaths, and Spain, with 33,000 people losing their lives to the disease.