Europe's week: Brexit brinkmanship and reviving the EU's fortunes
Comments
By Stefan Grobe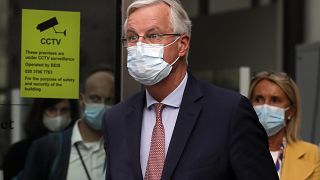 Copyright

Kirsty Wigglesworth/Copyright 2020 The Associated Press. All rights reserved

-
When Donald Trump walked away from the Paris Climate Agreement, he did so by suggesting that he couldn't care less about what his predecessor had signed.
Many saw this as a clear violation of "pacta sunt servanda" which is Latin for "agreements must be kept", a fundamental principle of international law.
The British government took this contempt to a new level this week. London wants to undo the very Brexit withdrawal agreement it has negotiated, signed and ratified itself.
A new bill is planned that would override the protocol related to trade between Britain and Northern Ireland. 
Extreme or irrational interpretations? Again, this is something that he himself has approved.
As a consequence, European trust in the United Kingdom is now hitting rock bottom.
Reviving Europe
Boris Johnson's readiness to break a treaty as a negotiating tactic in the ongoing trade talks is both "foolish and dangerous", wrote The Economist.
Because it might be used as an excuse to let the negotiations collapse and leave both sides without a deal.
And that could be a risk to the economic recovery that the EU took so much pain to orchestrate.
But thanks to its massive stimulus plan, Brussels sees Europe well positioned to compete economically with the rest of the world, including the United Kingdom.
The Coronavirus pandemic has caused an enormous global economic recession. But according to Thiess Petersen, an economist and senior advisor at the Bertelsmann Foundation, there are signs of an upswing, especially in Europe. 
"We had this sharp decline in industrial production in March and April. But now, in May and June, industrial production rose by ten percent each month. And there are good signs outside Europe, China, for example. China passed the economic bottom in the first quarter of 2020 and in the second quarter they had a huge increase in GDP. And this is positive for the European economy, because now our companies can increase their exports to China."
Within Europe, it's a tale of two different stories, though. Germany, for example, is doing better than the rest of Europe. Petersen says it can be explained by the length and intensity of the required lockdowns in different countries. Italy, Spain and France had restrictions on public life that were much harder than in Germany. 
He adds that the economic structure is important. 
"Manufacturing companies can produce their good even if they had no consumer at the moment. A purchase of a car, which was planned for March 2020, can be postponed until autumn or winter. In many service sectors this is not possible. So southern European countries which rely on tourism, suffered particularly hard from the lack of tourism."
Europe is fighting back with a giant recovery package in addition to huge national programs. But there could be a risk that outsize public deficits would harm economic growth in the future. Petersen admits that losses in tax revenues and additional government spendings are leading to a sharp increase of public debt. 
However, he argues that there is no alternative to higher government spending. 
"In such a severe economic crisis, governments must intervene in order to prevent an even worse economic slump. So without government support and without government fiscal support, there is a danger of mass unemployment and further bankruptcies, and this would weaken economic development for years.*
There is always the risk that the infection rate will increase heavily during the fall. This has raised concerns over how dangerous the new lockdowns could be for the economy in Europe. For Petersen it depends on what restrictions are made.
"In the event of another nationwide lockdown, the affected country would suffer from severe economic damage. If there is a lockdown in the neighborhood of my region, I must fear that public life will be restricted in my region too. And this is an uncertainty which has a negative impact on consumer demand, employment and investment."
Look ahead
EU-China relations will be put to test this week as European leaders sit down with their Chinese counterparts. Virtually of course.
On the agenda - climate change, trade, the economy – and Covid 19, which has soured relations significantly.  
Meanwhile, more Brexit discussions are expected in Brussels. While the weather in the Belgian capital is expected to heat up, the atmosphere between the negotiating parties is decidedly cool.
Also, the EU Council President Charles Michel will be travelling to Greece and Cyprus ahead of the EU summit the following week which aims to diffuse tensions in the Eastern Mediterranean.