Europe's week: Brussels politics gears up for busy Autumn
Comments
By Darren McCaffrey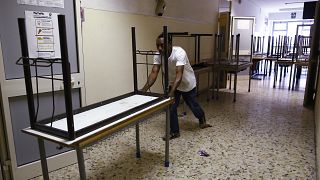 Copyright

Cecilia Fabiano/ LaPresse/LaPresse

-
Most MEPs have already gone or are due back at work soon.
But not necessarily here in Brussels. Since the coronavirus crisis hit - the Parliament has had to get used to remote working, and with the cases rising across Europe again, that doesn't look like it will change anytime soon
And there is one man who won't be returning to his job - Ireland's Phil Hogan who resigned this week after breaking coronavirus guidelines repeatedly one a recent trip to the country. He apologised saying he deeply regretted that his trip to Ireland 'caused so much upset and anger', saying that people had 'suffered a lot with COVID-19 regulations'. But he added that he broke no regulations, 'but could have adhered better to the guidelines'.
And so Ursula Von Leyen now needs to find a replacement. She has asked for Ireland to nominate a male and female candidate for the role, but there is no guarantee the country will hold onto the Trade portfolio.
Summer slip-ups
It hasn't just been politicians in hot water over breaking coronavirus guidance, but royalty too.
The King and Queen of the Netherlands have had to issue a public apology after failing to practice social distancing while posing for a photography with a restaurant worker during their Greek holiday
Speaking of controversy, Hungary's Foreign Minister has rejected allegations of corruption and calls for his resignation after he was photographed on the luxury yacht of a businessman whose companies have routinely won billions in government contracts - his defence, 'it's my private life'.
Belarus unrest unsettles Brussels
As opposition mounts both inside and outside Belarus to Lukashenko's disputed sixth election victory. The EU is trying to work out - what it should and can do next.
MEPs did meet in an emergency session this week to discuss the ongoing protests in Belarus following this month's disrupted election.
So far Brussels has not recognized the official results and there is much talk of further sanctions. MEPs on the Foreign Affairs Committee met in special session and heard from Lukashenko's main rival.
"We as a European Parliament support the position of the European council that we need targeted sanctions against those individuals who are responsible for the fraud of the elections on the one hand and the police brutality and the torture of innocent people on the hand," said MEP David McAllister.
On whether Europe should be wading further into the issue, MEP Witold Jan Waszcykozski admitted the response is not so strong, but the EU must consider the involvement of Russia.
Look ahead
It has not been a quiet end to the summer and there is little sign that with the ongoing pandemic and a deep economic recession that things are going to slow down anytime soon.
MEPs still need to vote on the agreed new EU budget, many are not happy about the allocation of funds and that it is not being linked to rule of law.
As well as Belarus, tensions are also simmering in the waters of the Eastern Mediterranean as Greece and Turkey, NATO allies but historic rivals, inch toward a possible military confrontation over oil and gas reserves
The CDU are meanwhile hoping to complete their search for who replaces Angela Merkel.
And how could we forget Brexit, both sides insist they want a deal but with little progress recently, exasperation is setting in and time ticking with Barnier saying a deal must be reached by October 31st
So strap yourself in folks, it is going to be a busy Autumn.
But we do have Christmas to look forward to, after all it is only 17 weeks away and this year no-one is taking any risks. Not least the Santas-in-training.