Coronavirus: UK rejects chance to join EU's COVID-19 vaccine scheme
Comments
By Euronews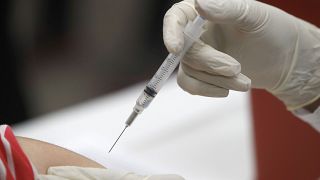 Copyright

LM Otero/Copyright 2020 The Associated Press. All rights reserved.
The UK has officially rejected the opportunity to join the European Union's coronavirus vaccine scheme, the government has confirmed.
Discussions had been "ongoing" between London and Brussels after the bloc reached out to the UK earlier this month to establish whether it wanted to cooperate on its approach to producing and distributing an effective COVID-19 vaccine.
But the UK government confirmed on Friday that it had decided not to participate in the scheme.
"The UK is working closely with all our international partners, including the EU, to accelerate the global availability of a safe and effective coronavirus vaccine," a government spokesman said.
"On this occasion, we have decided not to join the EU vaccine initiative, as it would not allow the UK to have a say in the vaccines procured, the price, the quantity and the delivery schedule, and the UK would not be allowed to continue pursuing independent discussions with pharmaceutical companies, which is key to ensuring the British public have swift access to any vaccine."
According to Commission President Ursula von der Leyen, "a significant number" of world leaders had been contacted in the hope that collective purchases would prevent vaccine prices from inflating due to competition.¨
The EU is planning to spend billions of euros on advanced payments for a potential vaccine. It was hoped that the UK joining the scheme could give an idea of cooperation between the two post-Brexit.
Among the key concerns raised by the UK was the issue of governance, citing the fact that the UK would not be able to be part of the negotiation team, unlike EU member states, and wouldn't be able to negotiate independently with pharmaceutical companies already in talks with the EU.
The government did say that it had an interest in collaborating with the EU to secure a viable vaccine for all, which would include sharing information on possible vaccine candidates and details of negotiations with vaccine manufacturers.
Earlier this month, the US brought nearly the entire world's supply of remdesivir - one of two drugs proven to treat COVID-19, and the only one approved by the European Medicines Agency.