Coronavirus: researchers in Belgium announce potential breakthrough using Llama antibody
Comments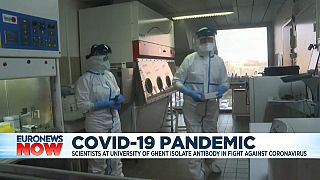 At a research unit based in Flanders, scientists have announced the discovery of a unique antibody that is capable of neutralising the virus that causes COVID-19. The antibody comes from a perhaps unexpected source - a llama.
Professor Xavier Saelens is a virologist from the Vlaams Institute of Biotechnology. He's also a lecturer in virology and Group Leader of the Molecular Virology Unit at the University of Ghent.
Professor Saelens has particular expertise in influenza; his main research interest is in working towards a universal influenza vaccine.
He believes the antibody discovery could be a significant milestone in the fight against COVID-19:
"It is important, because it could be that our antibody can neutralise the COVID19 virus. The antibody is special, it has this lama origin. It is an unusual antibody. I think that we found a very good point on the virus that is vulnerable (and can be exploited) for inhibition by this animal antibody."
So although this marks an important step forward in the development of a potential antiviral drug against the coronavirus, it is not the same as a vaccine.
Prodessor Saelens emphasises that there is a long way to go:
"So our discovery with this antibody is that it is not a vaccine in the strict sense. You can only apply vaccines essentially to healthy people.
"With an antibiotic, the one we proposed, that we announced in our discovery, you can actually bring the immunity protection immediately to a patient or to a person who is potentially exposed.
Professor Saelen's view is that a new antivirus treatment will take six months. In the meantime, he advises everyone to stay at home, even though scientists can't do the same:
"In the lab, we are taking precautions. We are a group discussing and also working together on experiment and we wear simple protective masks."