Search abandoned for missing French citizens after plane crash into Caribbean sea
Comments
By AFP & Euronews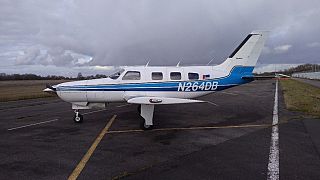 -
Copyright

HO / AAIB / AFP
A rescue mission has failed to find four French citizens who have been missing since their plane crashed near the Caribbean island of Dominica on Sunday, local authorities said on Tuesday.
"After over 40 hours of search in difficult weather conditions, there is unfortunately no more hope to find survivors", the prefecture for Guadeloupe, to which the four were travelling, said in a statement.
"Despite substantial measures, the search team have only found some of the passengers' personal belongings and parts of a plane", the prefecture's statement said.
The small plane carrying the four French nationals, including a 16-year-old, crashed into the sea on Sunday around 7 pm CET, "shortly after taking off at the Charles Douglas airport in Dominica", the prefecture said in a press release.
A 40-year-old man, a 55-year-old couple and their 15-year-old son were aboard the aircraft, the prefecture added. All are French citizens, it said.
A search team recovered a backpack with the passport of one of the people on the plane.
Later in the morning, a new bag with the flight plan was found, the prefecture said.
"The search conditions are made difficult with strong winds and rough seas causing poor visibility due to frequent squalls," the Guadeloupe prefecture said.