EU will attempt to force arms embargo as Libya effort refocuses
Comments
By Stefan Grobe, Jeremy East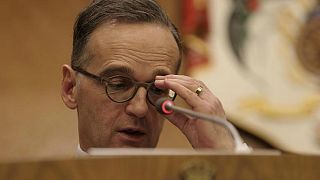 With world leaders pushing for a peaceful solution to the ongoing civil war in Libya, the European Union says it will refocus its Mediterranean operations on enforcing an arms embargo. Describing the conflict as a "kind of cancer" that is upsetting the balance in the region, the EU's top diplomat said the bloc will also look at how to monitor a ceasefire in the country, once it comes into effect.
EU foreign ministers met in Brussels on Monday to follow up on a newly-found momentum to bring an end to the civil war in Libya.
At last Sunday's Berlin Libya conference, the main warring parties agreed in principle on an arms embargo, a cease-fire and the beginning of a peaceful political process.
The EU wants to be part of that process and might be ready for some sort of military mission to monitor the agreement, the bloc's foreign policy chief Josep Borrell said.
"There are several possibilities. But you know a cease-fire requires someone to take care of it. You cannot say 'this is a cease-fire' and then forget about it - arms control, embargo control..."
Euronews questioned him whether he was in favour of reviving the Sophia mission? To which he replied:
"I think we have to revive it, yes."
With that largely dormant Sophia mission, the EU has aimed at neutralising refugees smuggling routes in the Mediterranean.
The EU sees Libya as a key country to help stem migration from Africa. But experts warn that the situation might be more complicated.
"The reality is that both parties (of the Libyan conflict) are a multi-faceted and uneasy amalgamation of militias. Now the question is, even though the two leaders might be willing to implement the Berlin document - and that's already a big IF - what will their supporters on the ground do," explains Stefano Marcuzzi, NATO Foundation College, in Rome.
"After analysing the situation and several hypotheses of what can happen in the next days, we are charged with (consulting) the working bodies of the Council to present to the Council concrete proposals of how to implement this cease-fire and enforcing the U.N. arms embargo," Borrell told reporters after the meeting.
If all sides managed to get a long-enough ceasefire in place, then the United Nations may be able to orchestrate a new political process for the country.
Libya has been consumed by the current armed conflict since the 2011 uprising which put an end to the long-time regime of Muammar Gaddafi.
Ever since, several diplomatic initiatives to find a peaceful solution have failed.