Angela Merkel and Vladimir Putin agree to fight to save Iran nuclear deal
Comments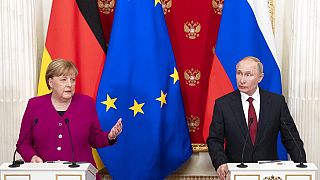 -
Angela Merkel and Vladimir Putin agreed on Saturday to fight to save the Iran nuclear deal after meeting in Moscow amid escalating tensions in the Middle East.
The German Chancellor said "everything must be done" to keep the agreement, despite calls from US President Donald Trump to abandon it, while her Russian counterpart described the deal as "tremendously important."
The 2015 Joint Comprehensive Plan of Action (JPCOA) is under pressure after Trump pulled out of it last year, triggering Iran's decision to intensify its enrichment of uranium.
"We agreed that we should do anything to preserve the deal, the JCPOA. Germany is convinced that Iran should not acquire or have nuclear weapons," Merkel said during a joint press conference with Putin.
"For this reason we will continue to employ all diplomatic means to keep this agreement alive, which is certainly not perfect but it is an agreement and it comprises commitments by all sides," Merkel said.
Merkel's visit — the first to Russia since May 2018 — came as Iran admitted accidentally shooting down a Ukrainian passenger plane shortly after its takeoff from Tehran, killing 176 passengers and crew.
Nordstream by 2021
Recent escalations with Iran were one of the "key reasons" for the Merkel-Putin meeting, said German Foreign Minister Heiko Maas.
"In the eyes of Merkel, Putin is a person who has direct contacts with the Iranian leadership and can somehow influence their decisions. Against the background of Trump, he looks like a responsible politician," said Russian political analyst Aleksandr Golts.
Speaking ahead of their meeting and an anticipated news conference, Merkel said there was "a lot to discuss."
Addressing Putin, she said: "I'd like to thank you that we have such an opportunity, because to talk to each other is always better than to talk about each other."
Putin said at the news conference that he expected the Nord Stream 2 pipeline that would ship Russian gas to Germany to be finished by the end of 2021. U.S. sanctions have obstructed construction of the facility.