Green Deal - the final touches
Comments
By Sandor Zsiros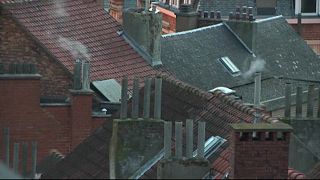 The European Commission is finalizing the details of its Green deal - a climate action plan to be presented next week.
After presiding the college of commissioners for the first time, Ursula von der Leyen announced new elements of the deal.
"I want to inform you that we are working towards an aspirational target of mobilizing under the just transition mechanism together with the EIB group 100 billion euros of investments during the period of the next MFF (EU budget)," Ursula von der Leyen, told reporters.
Brussels wants to have legally binding carbon neutrality targets for states. But they also aim to bring citizens on board.
Part of the green deal is support for financing renovation of old buildings, isolation, heqting systems.
"By renovating buildings people will see their energy bills going down; You know we will pay less for our energy and inside it will be warmer as well; And it will does offer employement opprtunities as well; We will need people, specialist, technical people also to run all these renovations. So thats clearly an example where we can create public acceptance, we can generate benefits for people and its going to be good for the climate and the environment," explained Ester Asin, Director WWF Europe.
The EU's Environmental agency warned that the EU might taking the wrong direction on climate policy and has to act immediately to avoid irreversible changes.