EU top jobs: changing of the guard
Comments
By Jack Parrock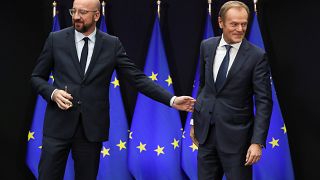 The changing of the guard. Poland's centre-right Donald Tusk is handing over the reigns of the European Council to the Belgian liberal Charles Michel.
"I want Europe to become a global leader fo teh green economny with jobs, innovation and high quality of life. We have to find a way forward that works for all member states and the people. To Achieve this, we have to mobilise all our tools, talents and intelligence," Charles Michel - EU Council President told reporters.
At 43, Charles Michel is two decades younger than Donald Tusk and the youngest man ever to take the job.
He's leaving his national politics where coalition building attempts are still struggling since May's elections.
As one of the four liberal leaders in the countries which surround Belgium - including the Netherlands and Luxembourg - it was them, lead by, French president Emmanuel Marcon who pushed for him to take the EU council leadership.
"He's very much know as a bridge builder, a diplomat that's something he's also shown in Belgian politics and it's going to be very important that he convinces the other 23 or 24 that he's not only the one of those 3 friends of his," says Willam van Mullem - Correspondent for VRT Belgium.
The first test for the new EU Council president will be December's summit of EU leaders.
It coincides with the Brexit defining UK election on the 12th of the month.
Michel will need all the tools in his bag to keep the EU united through the rest of the UK's departure.