The Brief: 'dying' to be heard
Comments
By Grace Murray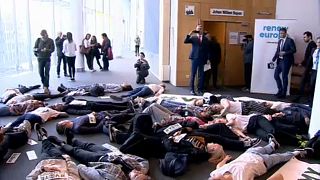 These young activists are "dying" to be heard bringing their calls for urgent climate action inside the European Parliament and forcing politicians to climb over them, to get to their meetings.
The young people are focusing their protest of socialist and liberal MEPs.
"It is fine for me, it is not causing a disruption, we can walk past and we can go into our meeting. But you know, it grabbed my attentions and my colleague´s attention," comments Shaffaq Mohammed, MEP, Renew, UK.
"The most important is what we put in the legislation. But of course these dramatic scenes sometimes take more attention," remarks Corina Creţu, former commissioner and MEP, socialist group, Romania.
The campaigners managed to enter the Parliament with help from the inside.
Some as young as 14, their focus firmly on their futures. With this "die-in" action they want more ambition and more EU money to fight climate change.
"We are here today to show that there is a l ack of sufficient ambition, sufficial financial resources and a lack of guaratees on social interest transition," says Jada Kennedy, a young activist.
They were eventually invited in to the political meetings - they don't approve of the climate promises the new EU administration is proposing.
My colleague spoke of the rubbish green deal, I call it a green washing deal... because at the moment, what has been promised in terms of a European Green Deal really isn't enough," explains Timothee Galvaire, a young activist.
Youth actions like this are becoming more common at the European Parliament as pressure mounts ahead of the global climate summit in Madrid next month.