European Commission 2019-2024: Who has been nominated for a top job by EU chief Von der Leyen?
Comments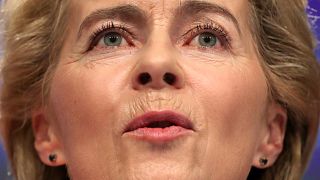 Ursula von der Leyen, the incoming chief of the European Commission, named her 27-strong team on Tuesday and called for the EU's executive to be "flexible, modern, and agile" and "listen to what Europeans want".
She said one of her first priorities is to get all commissioners to visit "every member state" in the first half of their mandates.
Von der Leyen also said she wanted a European Commission that "walks the talk" by doing paperless digital meetings.
The proposed commissioners — one from each EU member state except the UK — must now be approved by the European Parliament.
Von der Leyen's team, with 13 women and 14 men, is as close to gender balance as the EU's executive has ever achieved.
Who's in the list?
There will be three executive vice-presidents who will have a double function: Frans Timmermans (Netherlands), Margrethe Vestager (Denmark) and Valdis Dombrovskis (Latvia)
The trio will be both vice-presidents — with responsibility for one of three core topics of Von der Leyen's agenda — and commissioners.
Timmermans (Netherlands) will be the executive vice president for the European Green Deal.
"I want Europe to be the front-runner," von der Leyen said of Timmerman's role.
He will also manage climate action policy.
Vestager will "lead the work on Europe fit for the digital age". She will also coordinate the whole agenda and be the commissioner for competition and will work together with the commissioners for the internal market, innovation and youth, transport, energy, health, and justice, said von der Leyen.
Dombrovskis will be executive vice-president for Economy that Works for People, leading the work to bring together the social and the market. He will also be commissioner for financial services.
The other five vice-presidents include:
Croatia's Dubravka Šuica has been appointed vice-president for democracy and demography.
Spain's minister for foreign affairs, Josep Borrell, a new face, was nominated to be the next EU high representative overseeing foreign affairs and security policy.
Spanish socialist Josep Borrell, undiplomatic head of European diplomacy?
The Czech Republic's Věra Jourová has been named vice-president for values and transparency. However, von der Leyen has split the rule of law in two with Belgium's Didier Reynders will be commissioner for justice.
Reynders will be in charge of data protection and consumer protection. His mission letter said his job would be to "ensure the full implementation and enforcement of the General Data Protection Regulation" and "promote the European approach as a global model."
Greece's Margaritis Schinas appointed to 'Protecting our European way of life,' which von der Leyen explained meant he will be responsible for the topic of migration, skilled labour, skilled migration, and responsibilities for the topic of protection (security).
Maroš Šefčovič from Slovakia has been appointed vice-president for Interinstitutional Relations and Foresight.
Returning commissioners that previously worked in the Juncker administration include:
Bulgaria's Mariya Gabriel has been appointed Commissioner for Innovation and Youth.
Phil Hogan, from Ireland, got the job of trade commissioner.
"I know Hogan as an excellent and very fair negotiator. He will be very fair but determined negotiator," said von der Leyen, answering a question about whether the choice Hogan, an Irishman, for trade was a deliberate message to the UK.
"Brexit is not the end of something, but the beginning of a future relationship," she said. "This should be a good relationship as in the past — he's an excellent choice to negotiate this deal."
On Brexit, von der Leyen said: "We are still in a difficult process" and "we never wanted but we respect the decision." Brexit, she added, "is not the end of something but it's the beginning of a future relationship."
Ireland was happy about Hogan's new job.
Austria's Johannes Hahn has been named commissioner for budget and administration and will report directly to von der Leyen.
There will also be new faces in the commission:
Romania: Rovana Plumb will be commissioner for transport.
Portugal: Elisa Ferreira got Cohesion and Reform.
Estonia: Kadri Simson has been named commissioner for energy.
Lithuania: Virginijus Sinkevičius gets Environment and Oceans. At age 28, he's the youngest commissioner in von der Leyen's proposed team.
France: Sylvie Goulard will be the new internal market commissioner and will responsible for industrial policy, the digital single market and the newly created DG for Defense, Industry and Space. Goulard is expected to enhance Europe's technological sovereignty, lead work on artificial intelligence and the focus on a single market for cybersecurity.
Italy: Paolo Gentiloni will be commissioner for economy where he will "share his vast experience in the economy portfolio," said von der Leyen.
In a tweet, Gentiloni said: "At a crucial moment for the future of the European economy, I will commit to relaunching growth and its social and environmental sustainability. I will try to honour Italy and will work in the interest of all European citizens."
Cyprus: Stella Kyriakides will lead the health portfolio. Von der Leyen is looking forward to her new health commissioner to work hard on the issue of affordable medicine. In the mission letter to Kyriakides, von der Leyen wrote: "look at ways to help ensure Europe has the supply of affordable medicines to meet its needs. In doing so, you should support the European pharmaceutical industry to ensure that it remains an innovator and world leader."
Finland: Jutta Urpilainen will take over responsibility for 'International Partnerships.
Hungary: László Trócsányi will 'Neighbourhood and Enlargement'
Luxembourg: Nicolas Schmit will take over the jobs portfolio.
Malta: Helena Dalli has been appointed to equality.
Poland: Janusz Wojciechowski will look after agriculture.
Slovenia: Janez Lenarčič has been appointed Crisis Management.
Sweden: Ylva Johansson will take care of Home Affairs.
The UK declined to nominate a commissioner because it would be a "distraction" since the UK government plans to leave the EU on October 31 — a day before the new Commission is set to take office.
However, von der Leyen said the UK would have to nominate a commissioner if there is an extension beyond October 31.
Take a look at the complete list here.
Want more news?