Gender battles and Boris' Brussels memories
Comments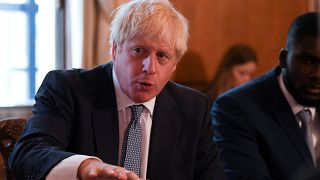 In Brussels we have experienced the hottest week on record!
Politically, though, we would have needed things to cool off a bit – after a hotly contested European election and the nomination and then election of Ursula von der Leyen as new Commission President.
This week, von der Leyen lost no time to rally her troops and talk strategy with her allies.
The closest of them is arguably France's Emmanuel Macron.
In Paris, they closed ranks and demonstrated that they are battle-ready for the big fights ahead.
Von der Leyen continued her tour with a trip to Warsaw.
The ruling party in Poland had prided itself of having single-handedly assured von der Leyen's election.
Fair point. But when it comes to supporting her politically the jury is still out.
Most countries have so far ignored von der Leyen's wish to have each government propose two names, one man one woman, for the respective Commissioner.
The overall goal being a gender-balanced Commission.
As we speak, that looks almost impossible to achieve.
Welcome, Mrs. Von der Leyen, to Dreamland Brussels.
The United Kingdom has a new Prime Minister, Boris Johnson.
Johnson is a Brexit firebrand who promised renewed negotiations with the EU and a defintive departure from the bloc on October 31st, come hell or high water.
That only triggered some amusement in Brussels and an absolute determination not to budge.
After all, Johnson has the reputation of being a political entertainer who has a casual relationship with facts and principles.
Not only in Britain, but also in Brussels.
Johnson received congratulations from around the world on becoming Prime Minister.
One came from Donald Trump who in style and substance seems to be something like an uber-Johnson.
Trump had made it clear for a long time that he wanted Johnson at Ten Downing Street.
Now it seems that the entire Trump family is over the moon!
Ivanka Trump tweeted her congratulations to Johnson on "becoming the next Prime Minister of the United Kingston".
What? Kingston, Jamaica? Does Ivanka want him to be their Prime Minister, too? Is this part of a new Brexit strategy plotted in the White House?
In any case, the tweet has since been deleted.
As of Monday, the European institutions take a break, as do we.
We'll be back in late August. Thank you for watching and stay cool!