What's behind Poland's love affair with coal?
Comments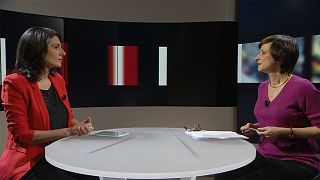 Despite growing pressure on Poland from the EU to wean itself off coal, the country shows no signs of ending its love affair anytime soon. Poland is Europe's biggest coal producer and the fossil fuel dominates the nation's energy mix, accounting for 80 percent of electricity generation.
Insiders' host Sophie Claudet spoke to Euronews' Valerie Gauriat following her recent visit to the country to find out the reasons for Poland dependence on coal and why it continues to retain a special place in the nation's collective heart.
Sophie Claudet: "We know that several Polish cities are among the most polluted cities in the world alongside Beijing or New Delhi,,,,,are Poles climate sceptics, is it the government, what's going on?"
Valerie Gauriat: "Well, there is a certain amount of scepticism of course. People we've met like the trade union leader for instance, you see in the report, told me, well, there is no scientific consensus about climate change and also the Polish science academy disagrees with the International Panel on Climate Change regarding the link between coal and global warming. So yes, there is scepticism, but also I would say that more than scepticism, there is a sort of climate fatalism. People are used to coal mining, they've been living with it for decades. There is a climate activism movement which is starting to express itself in Poland and the Cop24 was an opportunity for them to speak out but they are faced with a very powerful coal lobby and ironically Poland's major mining companies are also sponsors of the Cop24."
Sophie Claudet: "We've seen that the attachment that Poles, or some Poles have to coal is almost romantic. There is this party you attended where you see people are genuinely moved to be part of this movement, this history, this corporation."
Valerie Gauriat: "People are proud of their mining traditions, well miners have been slandered in places like Warsaw, but in regions like Silesia, which completely depend on coal and have so for years, you can't find a family which one way or another doesn't have a connection with coal mining, whether they were coal miners, or somebody in the family was a coal miner, or still is a coal miner, or works for an industrial company which is linked to coal mining,,,,,,,but it's not so much coal mining, as you know, the personal, intimate relationship to coal mining, which is really part of their identity. On the other hand, there is also this belief that coal is a symbol of Poland's independence. Poland consumes more coal than it produces - it has to import coal from Russia for instance - and that doesn't go down well with public opinion. So in a way they believe that if they give up on coal completely, they also surrender their identity, their political independence."
Sophie Claudet: "In fact, I just read a survey that says that miners in Poland are respected at levels comparable to university professors and more than medical doctors and teachers. Now Poland says it wants to diminish the share of coal in its energy production. It is also working on renewable energies. Did you see any evidence of this when you were on the ground?"
Valerie Gauriat: "Yes, there are plans, but the conception of renewable energy is more towards nuclear energy than anything else. There has been a lot of debate recently as the government has said that it wants to destroy all the windmills on the territory and switch to offshore windmills. Now, that is very controversial and nobody knows exactly what will happen next."
Sophie Claudet: "Poland is part of the EU. Poland is greatly benefiting from being part of the EU and yet it doesn't play by the rules when it comes to carbon emissions. Cutting carbon emissions to be precise. Is it exposing itself to sanctions, potentially fines, disputes within the EU?"
Valerie Gauriat: "Well, Poland has been slammed by the European Court of Justice as regards pollution and air quality for one thing. But when it comes to CO2 emissions Poland will tell you that it is abiding by the rules. Poland is a signatory of the Cop21 Paris agreement. And so it says it will follow the rules. Now whether it will happen or not, whether the targets will be reached by 2030 is yet to be proven and when it comes to more ambitious targets, it's made very clear that it would not go any further. But on the other hand, Cop24 didn't make any progress. There's an agreement for a status quo on the Cop21 Paris agreement, so it won't go any further and in that sense Poland, for now, is quite safe."