Europe's green goals and climate stakes
Comments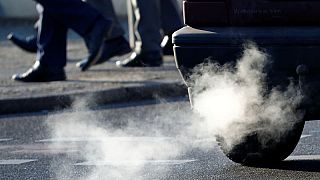 CO2 emissions are rising again. According to a report presented during the COP24, emissions are expected to grow this year by 2.7% compared to 2017. China and the US are the main emitters. In this table the EU is doing well, with a drop of 0.7%.
These European figures will probably not be enough to allow the EU to convince its partners at the COP in Poland. According to Dutch Green MEP, Bas Eickhout, the EU does not seem so much in a leading position.
"Let's be honest the EU was in a front position also in Paris and you can say that we have done our climate legislation it's is in place now. So in that sense you can say Europe did its homework but of course one of the big question in Poland will be: how are we going to close the gap between what we promised in Paris and where we are now as a world. And then of course everyone will look at Europe. Is Europe going to do more? Is Europe is going to promise to do more? And there Europe doesn't have a plan".
Just before the opening of COP 24, the European Commission presented its climate strategy for the 2050 horizon. The goal is simple: to achieve climate neutrality. But some voices in the European Parliament is still a warning, the EU should not be the only power to make a climatic effort.
Europe cannot be the only one. I remind you that Europe repesents 10 per cent of greenhouse gas emissions. If we want our efforts to be felt, they can't be cancelled out by other world powers, which together represent the remaining 90 per cent. So Europeans can't be the only ones making an effort, and we cannot make those efforts to the detriment of our economic model," explains Angelique Delahaye, French EPP MEP.
In Brussels all agree that the Union remains a major player in environmental policy. It has sufficient leverage to encourage its partners to act. However, member states are divided on the ambition to follow. The Netherlands, Sweden and Luxembourg have the most ambition, while Poland, Hungary, the Czech Republic and Slovakia are less ambitious.