"There was a deliberate provocation" - Ukraine Parliament Chairman
Comments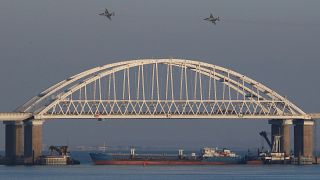 The war of words between Ukraine and Russia has been escalating since the accident in the Kerch Strait with the sides accusing each other of provocations.
Euronews talked to Andriy Parubiy, the Chairman of Ukrainian parliament and Konstantin Kosachev Chair of Russia's the Foreign Affairs Committee of the Federation Council.
"I'm convinced that there was a deliberate provocation by Russian forces in order to provoke Ukraine for more active measures, similar to what they did in Georgia in 2008. We had information that after this provocation Russian regular forces could go for more aggressive actions against Ukraine.This is why Ukraine's authorities decided to impose martial law," Parubiy says.
Konstantin Kosachev Chair of Russia's the Foreign Affairs Committee of the Federation Council says:
"It is completely obvious that if Ukraine, either by itself or with the help of its allies, somehow tries to resolve issues by military means, this will all turn into a military defeat. The current president immediately provokes the imposition of martial law, and this means only one thing - this means that the incident itself was provoked to impose martial law."
NATO Secretary-General said "Russia's ongoing militarisation of Crimea, the Black Sea and the Sea of Azov, poses further threats to Ukraine's independence and undermines the stability of the broader region"
"I have asked the Secretary General of NATO to increase the presence of the member-countries in the Black Sea, which includes air and naval presence. This can be the best guarantee for the security of this area from Russian aggression," says Parubiy.
"Without any doubt by the latest developments Russia wanted to demonstrate that it is the only one to control Azov sea. It has been Russian challenge to the whole world. But it is important to admit that their intentions are much bigger and more global. One say Putin said that the collapse of the URSS was the biggest geopolitical tragedy of the XX century. That phrase answers all the questions. What the Kremlin wants is to restore the control of the ex Soviet geopolitical territory," says Parubiy continuing,"Ukraine and the Azov sea - that's just another step for them...That is why our soldiers on the front line are protecting not only Ukraine, but the whole free world."