Maastricht Treaty 25 years on: the birth of the EU ... and euroscepticism
Comments
By Bryan Carter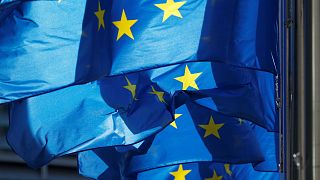 The early 1990s were a milestone for European integration. The end of the Cold War especially marked a turning point in history, after which the 12 European member states of the time decided to push the European project to a new level.
To this end, in February 1992, they signed the Maastricht Treaty. It entered into force on November 1st, 1993, 25 years ago today, and transformed the then-called European Communities into the European Union.
Perikles Christodoulou, curator at the House of European History, says "the member states of the prosperous European communities needed to go further than a simple economic cooperation. The cooperation should have also other levels".
The Maastricht Treaty set the stage for the birth of the euro a decade later and increased the political powers of the EU. It also created European citizenship, common foreign policy and closer judicial cooperation.
But the path to ratification was not an easy one. Referendums were held in several countries. In France, the 'yes' campaign won by a very thin margin (50.8% in favour). But in Denmark, the treaty was narrowly rejected (50.7% against to 49.3% for), sending shockwaves throughout Europe.
Jacques Delors, who was the president of the European Commission from 1985 to 1995, reacted to the news by saying: "This no to the referendum must make everybody think hard, but the commission can only say that it fears this no will have consequences."
The astonishment of Delors was widely shared by other policy-makers across Europe, according to Víctor Fernández Soriano, a history researcher at the Free University of Brussels.
"For the first time they realised that the enthusiasm that had led European negotiations prior to the Maastricht referendum was not necessarily shared by societies, by public opinions."
The reasons behind this rejection were diverse. For some, it was the fear of migration and the loss of national identity. For others, it was the economic model, which they accused of being too liberal and trampling on labour and social rights.
The Maastricht Treaty also introduced the notion of budgetary limits based on national debts and national deficits, which was already criticised by many at the time.
"There are many historical links between the Maastricht Treaty debates and today's ongoing debates. Most of the issues are basically the same. So the Maastricht Treaty was really a turning for European integration, it was a milestone in European history, but it was also the moment Euroscepticism came out," added Fernandez Soriano.
Eventually, Denmark was granted four opt-outs from the treaty, clearing the way for its adoption, and giving the EU a decisive boost.
But as illustrated by Brexit, the rise of euroscepticism or the ongoing conflict between Rome and Brussels over budget, the issues that rocked the Maastricht ratification process are still very present today, a quarter of a century later.