What security is necessary at an EU summit?
Comments
By Byan Carter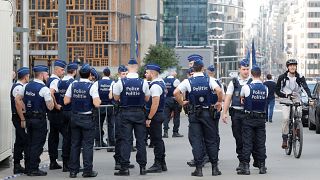 Copyright

REUTERS/Yves Herman

-
When all 28 heads of states and governments converge in the European Council building, it becomes the epicentre of decision-making in the EU.
From the moment they set foot in Belgium, the country becomes responsible for their safety. It's a logistical and security feat. But for people like Yves Mertens, who coordinates the close protection of EU leaders, it's a year-round job.
"The biggest fear is actually to have a real attack. That's normal in our job. We try to avoid this. Up to now, it never happened, but of course if it really happens we have to react, to respond, and, of course, this will be a very big challenge for us," says Yves Mertens, Chief inspector at the Belgian Federal Police.
More than 150 specially trained police officers are assigned to closely protect the EU leaders. Hundreds more are deployed to escort them, restrict access and secure perimeters.
The coordination of all the units starts in a building, just a few kilometres away from the European Council. After months of preparation, the summit is finally about to begin and Yves feels ready.
"We took a lot of time to prepare this summit, of course. And actually, once the summit starts, everything is moving, for us it's easier because we have more control because we are following all the teams. So actually, for me, the big work is in the preparations," Mertens explains.
Once the leaders are inside the building, both Belgium and the EU ensure their security and the mission won't be over until they all leave the country's territory.
This deployment comes at a big cost, which varies from one summit to the other.
Brussels alone receives €55 million per year from the federal state to guarantee the security of high-level meetings. But many observers argue that these events also bring in important revenue for the city and contribute to ensuring its position at the centre of Europe.