Colombian government suspends talks with ELN rebels
Comments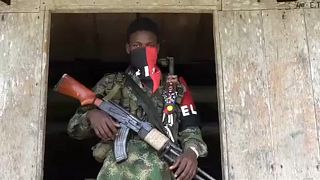 They've been at war for decades. Now negotiations between the Colombian government and the ELN, or National Liberation Army, are on hold.
The rebels have been told to release 19 hostages, but some are still being held. Visiting Brussels, Colombia's foreign minister said the ELN must comply for dialogue to resume.
"They released, the ELN, some kidnapped, but they have to free all of them. And additionally they have to cease unilaterally their criminal actions in a verifiable way," Foreign Affairs Minister Carlos Holmes Trujillo told Euronews during a visit to Brussels. 
He confirmed that until this happens, negotiations are suspended. 
Meanwhile, Colombia's facing an influx of Venezuelans amid a crisis there.
More than a million arriving, it's estimated - a mounting humanitarian challenge.
Carlos Holmes Trujillo commented: "It is a problem that grows every day. There are constant demands on the health service, the education service, in what has to be done with vaccinations, security matters. So the magnitude is tremendous and that is why I came here to say that Colombia alone has no capacity."
In Brussels, the minister met - among others - the EU's foreign policy chief Federica Mogherini. Looking for support amid the wave of Venezuelan arrivals, but also ways to help pile pressure on the Caracas regime.