Belgian courts to rule on Spanish rapper's extradition
Comments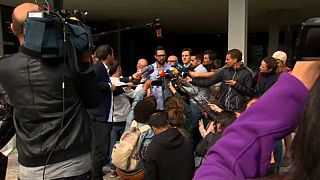 An extradition ruling on the controversial Spanish rapper Valtonyc has again been delayed.
Belgian courts will decide on September 17 whether he should be sent back to Spain to face charges of glorifying terrorism. 
Appearing before a judge on Monday, Josep Miquel Arenas - who goes by the stage name Valtonyc - told journalists he was optimistic the charge would be dismissed by the Belgian judiciary.
"I'm happy because the prosecutor doesn't take the accusation of terrorism for granted," Mr Arenas said. "But at the same time I am very sad because this shows that the Spanish state is making the word terrorism banal and that it's using it as an excuse to crush dissent."
Valtónyc is also accused of insulting Spain's royal family and for making threats, which the defence considers an inappropriate accusation for a rap musician such as Valtonyc.
His lawyer Simon Bekaert said:
"There is no question of 'threats' because it is rap music. It is like graffiti, you do not have to take it literally, it is hyperbolic."
The judges will be taking the time to analyze the lyrics in the rapper's songs to determine whether they fit the crime. In Spain he was sentenced to three and a half years in prison. Examples of his lyrics include wishing to blow up a bus full of politicians.
Valtónyc wants his case to set a precedent in favour of freedom of expression. For that reason he says that, should his extradition be definitively approved, he's willing to go all the way to the European Court of Human Rights in Strasbourg to fight it.