Will NATO headquarters be named after John McCain?
Comments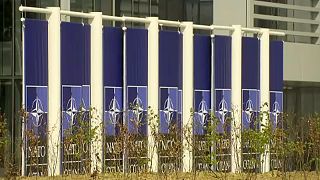 Former NATO Secretary-Generals are supporting a bid for the military headquarters in Brussels to be named after late Senator John McCain.
Anders Fogh Rasmussen, Lord Robertson of Port Ellen and Javier Solana are all backing the idea.
The current Secretary-General says the proposal will be studied carefully, adding that he had tremendous respect for the Senator. It's a sentiment echoed by a former president of Estonia...
"I cannot think of anything better than naming the HQ of NATO, the new building, after the man who has done more for NATO than anyone I can think of since the fall of the Wall," said Toomas Hendrik Ilves.
McCain made frequent visits to NATO member countries throughout his political career and frequently criticised Russia's activities, seen as undermining the alliance.
He also voiced disappointment with President Donald Trump's handling of America's relationship with NATO.